The future of work is hybrid. 
According to Microsoft's 2021 Work Trend Index, over 70 percent of employees want flexible remote work options to continue, and widespread working from home practices have left office workers around the world thinking:
Is the commute worth it?
For some, this will depend on how compelling their workspace is. To entice workers back, the office must become a destination for collaborative work, while also reserving space for more focused independent work.
Creating engaging environments is what coworking operators do best, so the move to hybrid work can be seen as a huge opportunity for the sector. 
Many freelancers and founders are missing the interaction that flexible workspaces facilitate. Increasingly, large employers are thinking outside the box and switching their office leases for flexible workspace agreements. 
The workspace is becoming a destination for collaborative work. 
Here are three prominent trends that are helping to shape the future of the commute. 
1. Flexible commuting on public transport 
The last year has been tough on the public transport industry.
For decades, it experienced steady growth as demand continued to rise. Then COVID-19 hit and public transport saw an unprecedented fall in passenger numbers. 
Meanwhile, car journeys in city centres rose, partly due to the belief that travelling by car reduces the risk of infection. 
Public transport's demise is far from imminent, however. 
In a bid to get people back on trains, companies and governments are coming up with ways to get commuters back on board. 
In the UK, for instance, proposals designed to make train travel more attractive have been published by the Government in the biggest shake-up for the sector in decades. 
Among other things, the proposals include:
New flexible session tickets
From summer 2021 flexible season tickets will be available for passengers who commute part-time. It'll particularly benefit those who travel to work two or three days a week.
More space will be made available on trains for passengers who cycle part of their commute. Also, joined-up ticketing will be improved for journeys that involve both trains and buses. 
In the UK, one in five railway stations has step-free access to all platforms. The Government is planning an accessibility audit and strategy, in recognition that big changes are needed to improve the experience for passengers with disabilities.
2. Making the commute greener
According to the CBI, transport contributes to about a third of carbon emissions and 20% of distance travelled prior to the pandemic happened on commutes. 
To ensure we stay on track to reach net zero by 2050, we need to avoid going back to the way things were and transform the way we commute. 
As a flexible workspace operator, what can you do to encourage your employees and members to green-ify their commute to your building?
CBI's new report, which it compiled in partnership with KPMG, could be a good place to start. Published in April 2021, Greener Miles explains how both businesses and government can get on board with net zero commuting. 
Here's a quick summary.
Take greater responsibility for the emissions created by your employees' (and members') commutes by factoring them into your net-zero strategies

Set out tangible steps to help employees (and members) make greener journeys to and from work, including by incentivising public transport use and use of shared and active travel options, such as walking or cycling

Make workplaces more conducive to low emissions travel, including accessibility to on-site changing facilities, EV charging, bike locks, and proximity to public transport.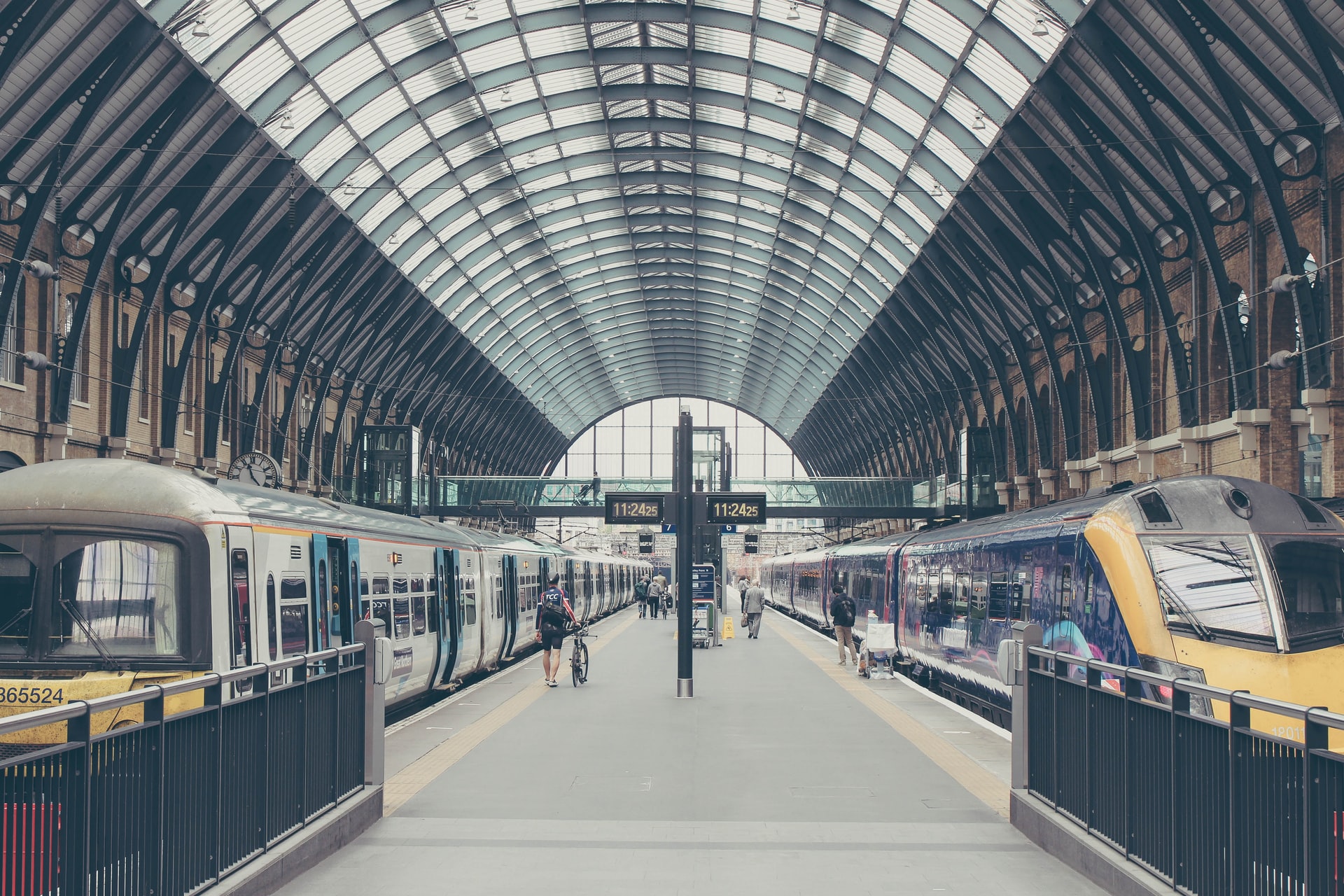 The daily commute is being replaced by the 2 or 3-day per week commute. 
3. The rise of suburban coworking
An unprecedented number of people are moving away from city centres to suburban or rural environments. This transition is also having an impact on the commute and has the potential to spur economic growth in towns and smaller cities.
This is good news for local coworking operators. 
A study by Coworker reveals that the majority of people who were working remotely for the first time during lockdowns would like to look into a coworking space in the near future.
Suburban coworking is well-suited to individuals looking for a "third space". In other words, a workspace away from their home (but not too far from it), and one that isn't their company's city centre HQ. This ties in with the rise of the hub and spoke approach. 
The hub & spoke approach
In commercial real estate terms, a company's "hub" is its headquarters. This could be an office lease or a larger office (or managed floor) in a flexible workspace. 
The spokes are a geographically dispersed network of smaller offices. These spokes are chosen strategically based on the business' talent and client needs. 
Lots of flexible workspaces and coworking spaces are perfect spokes for larger businesses, and also serve as headquarters for SMEs and startups. 
Instant and HICKEY's report, 'The Rise of Suburbia' makes for an interesting read – you'll find it particularly useful if you're considering setting up a workspace in the suburbs. 
The report was compiled to help determine whether hub and spoke is viable as a strategy and whether the workspace market in the UK can support growth in suburban areas.
Key findings:
57% of employees want an office that is closer to their home

77% of employees say that a more conveniently located office is a must-have for their next role

UK businesses could save up to 23% on average by adopting a 'rightsize' approach

The average London employee could save £2,200 a year in commuting costs

But supply is limited in suburban and tertiary markets.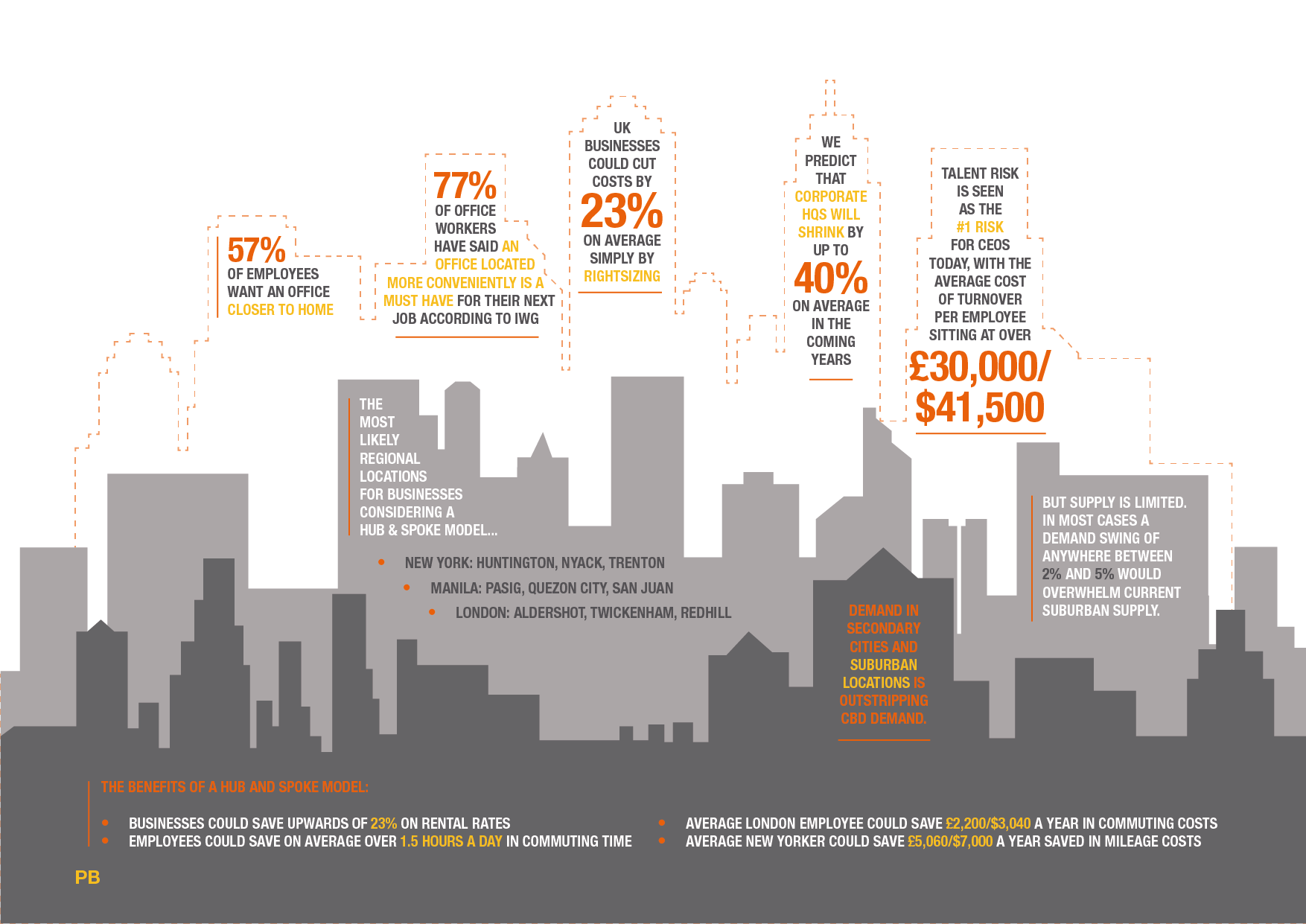 Flexible workspaces fit for the future
You might be surprised to hear that around 50% of people have actually missed commuting during Covid. For many of us, traveling to work can be therapeutic, providing us with time in our day to catch up on our favourite podcast or just sit back and relax. 
Unsurprisingly, 73% of us miss socialising in person. 
Spontaneous conversation is difficult when you're working from home with only a pot plant for company. Also, as effective as virtual meetings may be, they'll never be able to replicate the buzz of face-to-face interactions.
We can assume, then, that people will only be willing to commute if their workspace is able to facilitate their need for socialisation. 
Fortunately, that's one of the things our sector excels at – and it's ready and waiting to welcome back members old and new!