In our latest deep dive into the trends that are set to shape the future of work, we're focusing on employee health and wellbeing. The topic has garnered a lot of attention over the last few years, and for good reason. Workplace wellness programmes are proven to reduce health risks and healthcare costs, decrease absenteeism and improve productivity. 
The Covid-19 pandemic is transforming the corporate wellness landscape even further. And for conscientious employers, the safety and wellbeing of employees is now a top priority.
According to Wellable's 2021 Employee Wellness Industry Trends Report, 88% of employers plan to invest more in mental health to ensure they're well-equipped to address this aspect of wellbeing in their workplace, while 87% of companies plan to integrate more telemedical services into their health and wellbeing programmes. 
Throughout 2021 and beyond, health and wellbeing is going to be about so much more than free fruit and gym memberships. Employers are poised to invest some serious time into their wellness strategy to provide personalised and timely support to everyone on their team.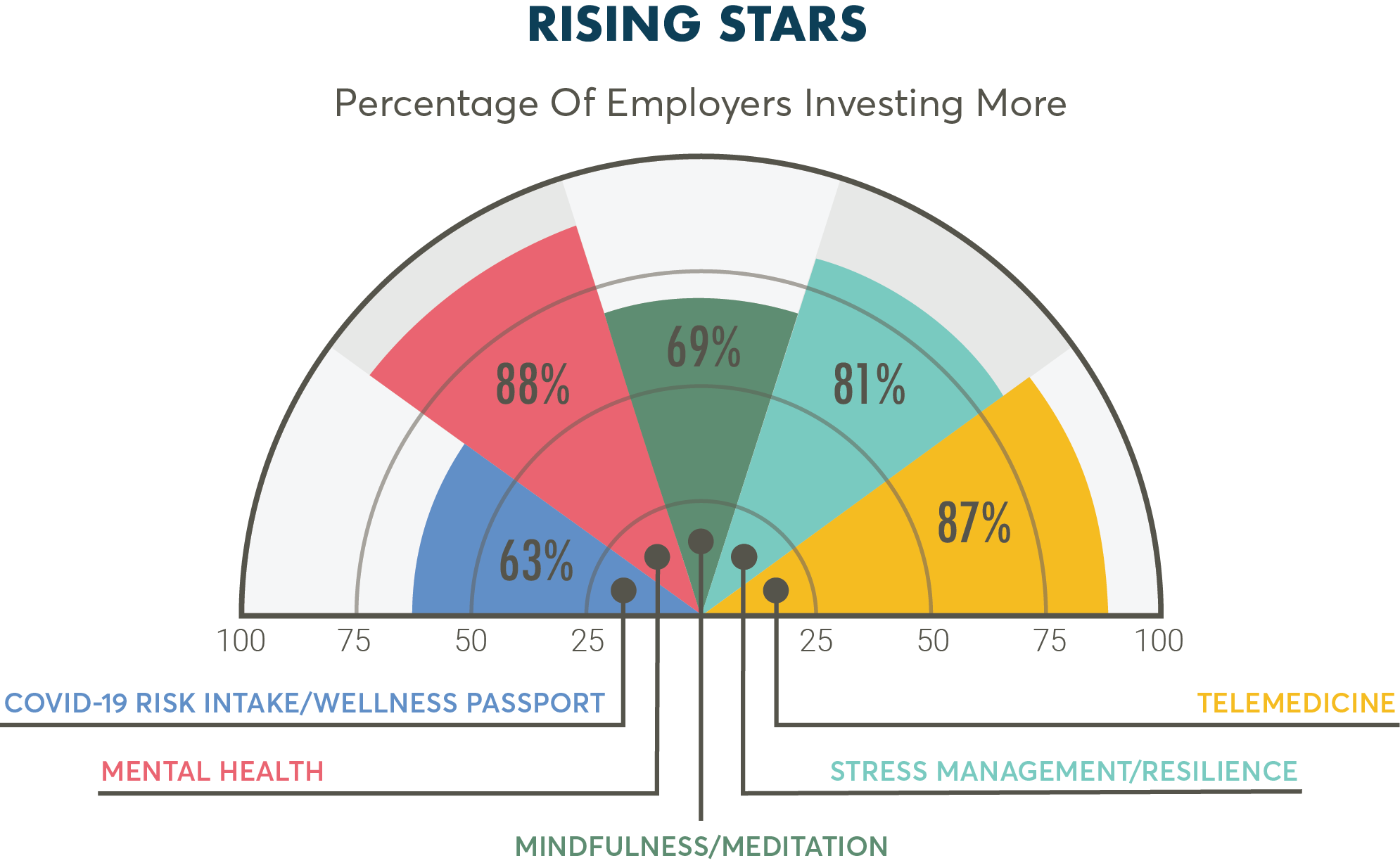 Five aspects of wellness that employers are prioritising right now
What's not so hot on the wellness agenda right now
Aside from Wellable's research results, here are three key health and wellness trends that we anticipate gaining some traction this year.
1. A focus on prevention 
Instead of providing benefits for when it's effectively "too late" (like when people are experiencing burnout or a bad back from sitting on an unsuitable chair), prevention will become the focal point, and indeed the starting point. Here are just two preventative practices workplaces can implement to get a head start:
Training managers and other staff in how to identify, understand and help someone who may be experiencing a mental health issue – training can be facilitated through a specialist organisation like MHFA England.  Managers are likely to be the first people to notice when a member of their team is struggling to cope.

Providing opportunities for physical activity throughout the working day, e.g. encouraging regular breaks away from the deskspace and offering standing desks as an option. Research shows that breaking up workplace sitting time with bouts of standing improves fatigue and musculoskeletal discomfort.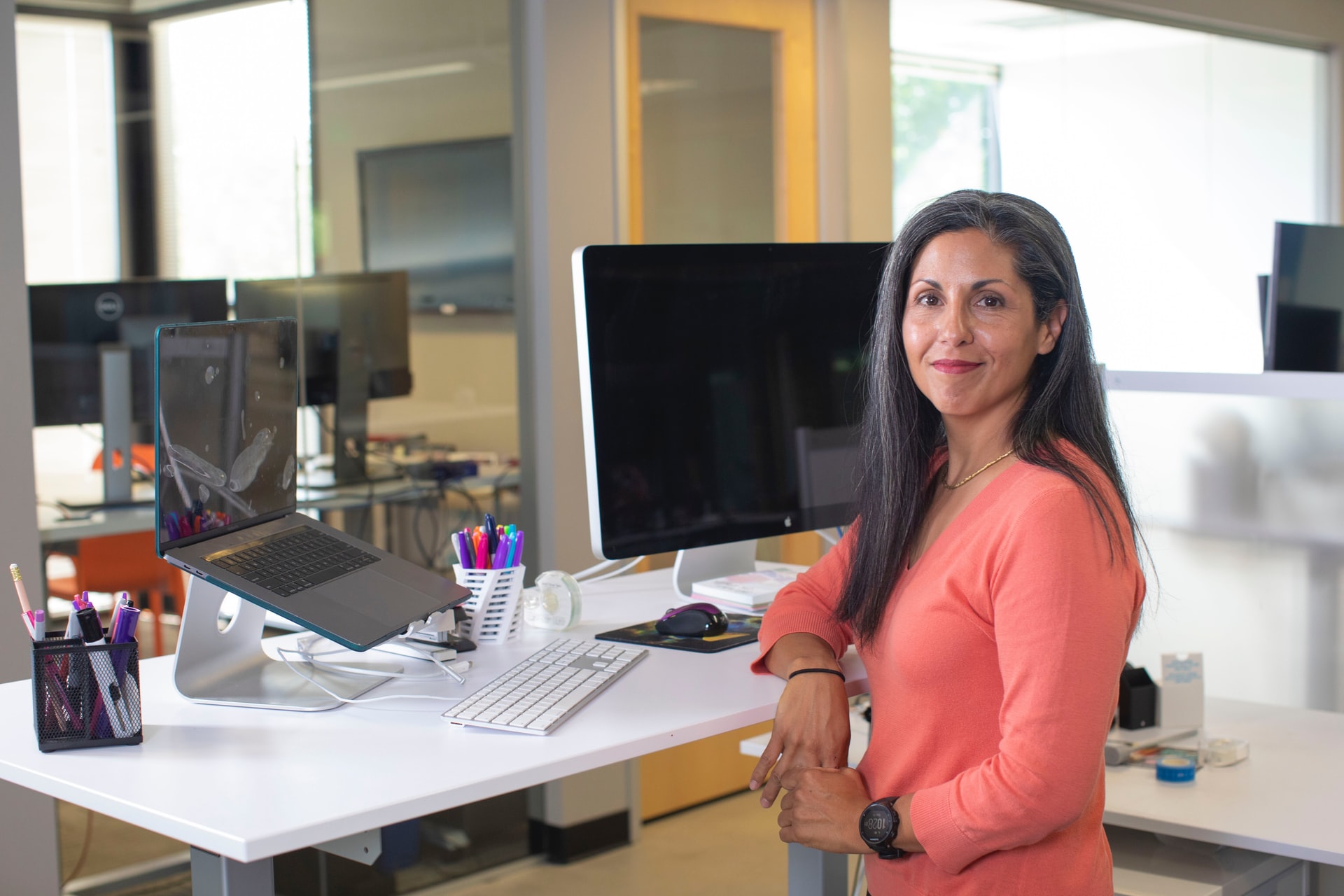 Introducing standing desks can encourage healthy habits
2. Supporting social wellbeing
Humans are naturally social creatures which is why many of us find lockdowns so difficult. "Humans are part of a very sociable group, the primates," writes Jonathan Este in The Conversation. "Primates are distinguished from other animals by their grasping hands and various ways of moving around, and because they show a high level of social interaction."
Even before the pandemic, remote workers were at risk of social isolation from their coworkers. Those water cooler chats and organic interactions are what help us to develop a rapport with our team members, propelling us to be more productive and "present" at work. 
So, how can employers help people nurture relationships remotely?
According to HRZone, one of the best things organisations can do to maintain social wellbeing in a remote context is to create "moments of togetherness". 
Daily check-ins, giving employees a say in how the business operates by "keeping the door open for feedback and questions", and showing that the organisation values people's work-life balance and individuality are absolutely key to sustaining social wellbeing in 2021 and beyond. 
3. Forays into financial wellbeing 
The pandemic has created challenges when it comes to people's financial wellness, which until now has been somewhat overlooked by the majority of employers. Bank of America published the results of its 2020 Workplace Benefits Report at the end of Q3 2020, and it makes for an interesting read.
The report found that attitudes towards the financial wellbeing of employees are shifting. For instance, 62% of employers feel extreme responsibility for their employees' financial wellness, up from 13% in 2013. This is being driven by the belief that a workforce equipped with financial wellness tools are more productive (83% of employers think so, according to the report).
Although an increasing number of businesses are doing more to look out for the financial wellbeing of their staff, just 49% of employees say they're feeling "financially well" right now, down from 61% just two years ago. No doubt the pandemic is having an adverse effect, which is why financial wellness should factor into every organisation's wellness plan. 
Until now, financial wellness programmes have focused primarily on retirement planning and little else. However, Bank of America found that these initiatives are expanding to cover a wider variety of issues, from debt management to managing healthcare costs. 
4. Prioritising mental health and emotional wellbeing 
Prior to the pandemic, research by Gartner showed that 45% of workplace wellbeing budget increases were allocated to programmes that focused on mental and emotional wellbeing. Fast-forward to late March 2020, and 68% of employers were offering at least one other wellness benefit to help employees mitigate the challenges of the pandemic. 
We expect this to continue throughout 2021. Organisations are already coming up with creative ways to de-stigmatise and open up conversations around the topic of mental health. Others are toying with the idea of a 4-day work week, which according to Will Stronge from think tank Autonomy, "would bring huge benefits to workers' mental health, which directly feeds into firm performance."
It's no secret that investing in employee health and wellbeing can make for a happier, more resilient and higher-performing workforce. For a wellbeing programme to be successful, it needs to be integrated across the organisation and embedded in its culture and leadership. 
We'd love to know what you'll be implementing this year – share your health and wellbeing strategies on Twitter and tag us at @Nexudus. Alternatively, get in touch by emailing us: communications@nexudus.com