Time to renew your Passport!
For all of you who already use Passport by Nexudus in your space or its white-labelled counterpart, you will be pleased to know that a new version of our mobile app, available on iOS and Android, has been released. The new app has been designed to encourage connection between the coworking community, make managing accounts easier, and includes some additional features. If you haven't used the app before, Passport by Nexudus is a companion native mobile app to the Nexudus account for your coworking members.
You've been upgraded
We are always striving towards improving user experience in order to help you to make the most out of your space and community. A few of the advantages of working in a coworking space includes meeting other innovative, business-minded people and improving productivity. As a result, we decided to create a brand new Passport App, designed to be easy on the eyes, make communicating with coworkers more accessible and managing different processes more efficiently.
Say hello to a brand new and sleek interface
Community feed, Bookings, Directory and My Account still feature in the app. However, Bookings now includes a filter option in order to search based on the capacity of the room and desired amenities. The rooms can be categorised into different resource types, e.g. small meeting rooms, large meeting rooms and hot desk, and includes a description of the room and your space. This has been designed to speed up the process of finding the ideal available room for team meetings and quiet time. Additionally, if the phone is waved in front of the NexBoard app, it will prompt users to book the room they are standing in front of.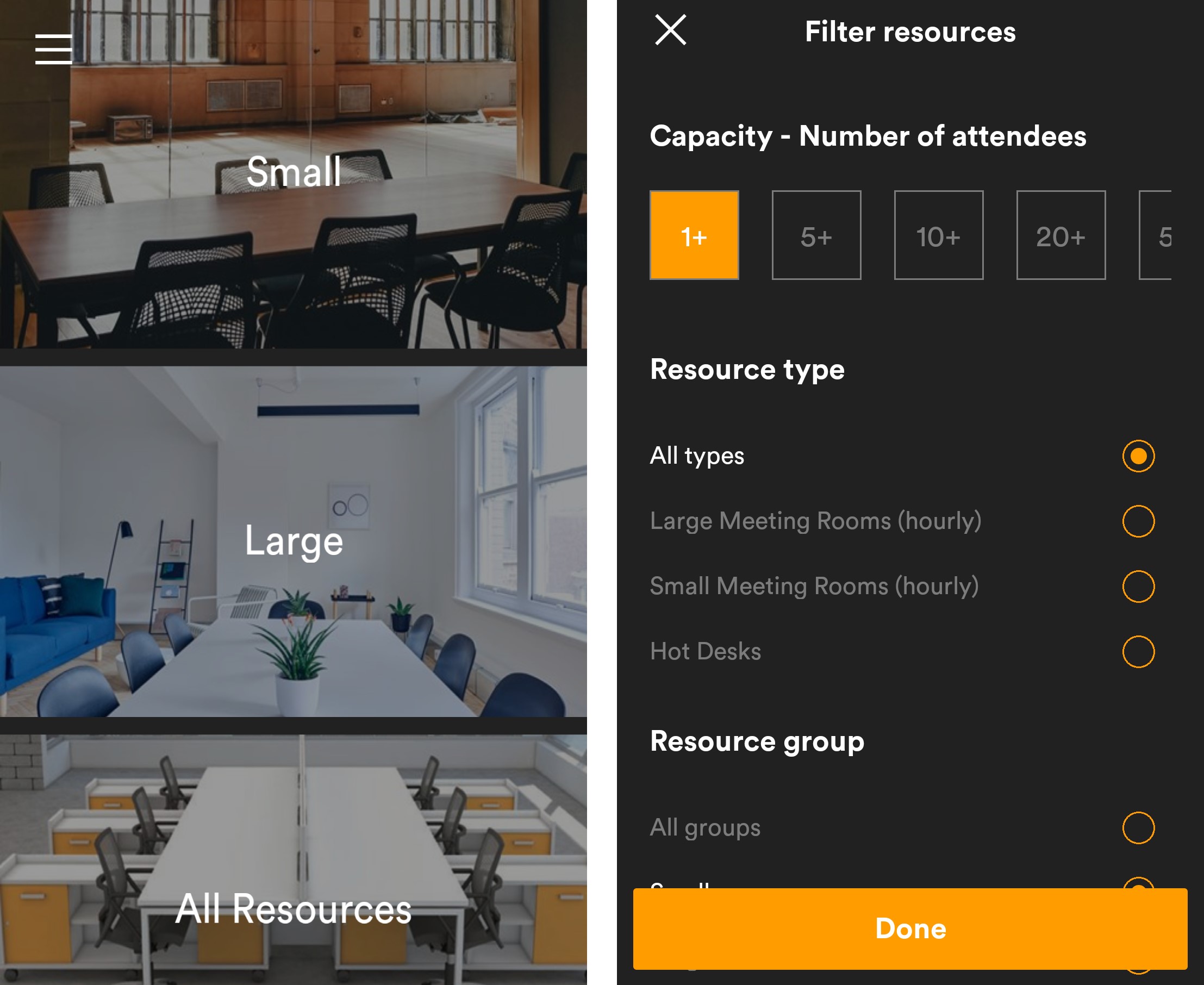 Meeting rooms and booking request screen
The Directory now includes a section for Teams so members can see which companies are working in the space, rather than just the members and includes an advanced search to filter results based on any of your custom fields, like industry, skills or sector. Additionally, different groups can be created for the Community Feed, e.g. Job Board so members can post to relevant groups and communicate to the desired audience.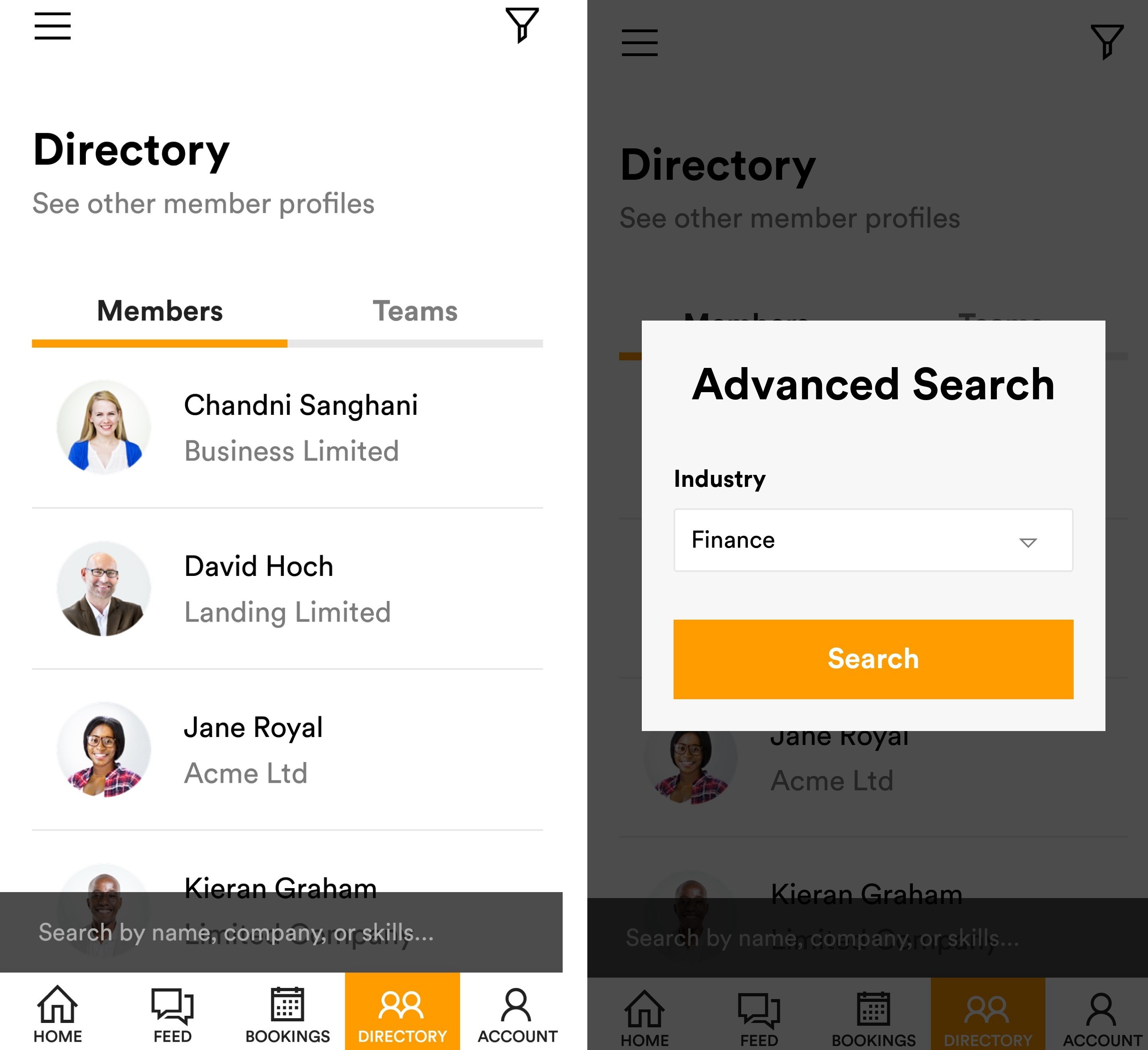 Directory and advanced seach section
A new Passport taking you to more places
We decided to add more features which are easily accessible in order to engage the community more and showcase the spaces.
Members Home Dashboard: When members log on they are informed about the latest happenings in the community and reminded of upcoming bookings and events. This new clean design aims to help members stay organised and participate in topics being discussed. There is also a section showcasing the latest members in the community because we understand the struggles of being the new kid in town. This should help them be approached by someone interested in their background or welcoming them to the community.
Events: Introducing and getting to know your coworkers is very important, and events are a great place to do this, as well as promote your space! Information about events and the ability to book tickets on the app should help bring more people to the events and encourage community involvement. Coworkers can also leave comments on the event page which could create connections even before the event has taken place.
Blog: Members can now read your blog posts directly from the app where you can share the latest news about your space and coworking trends.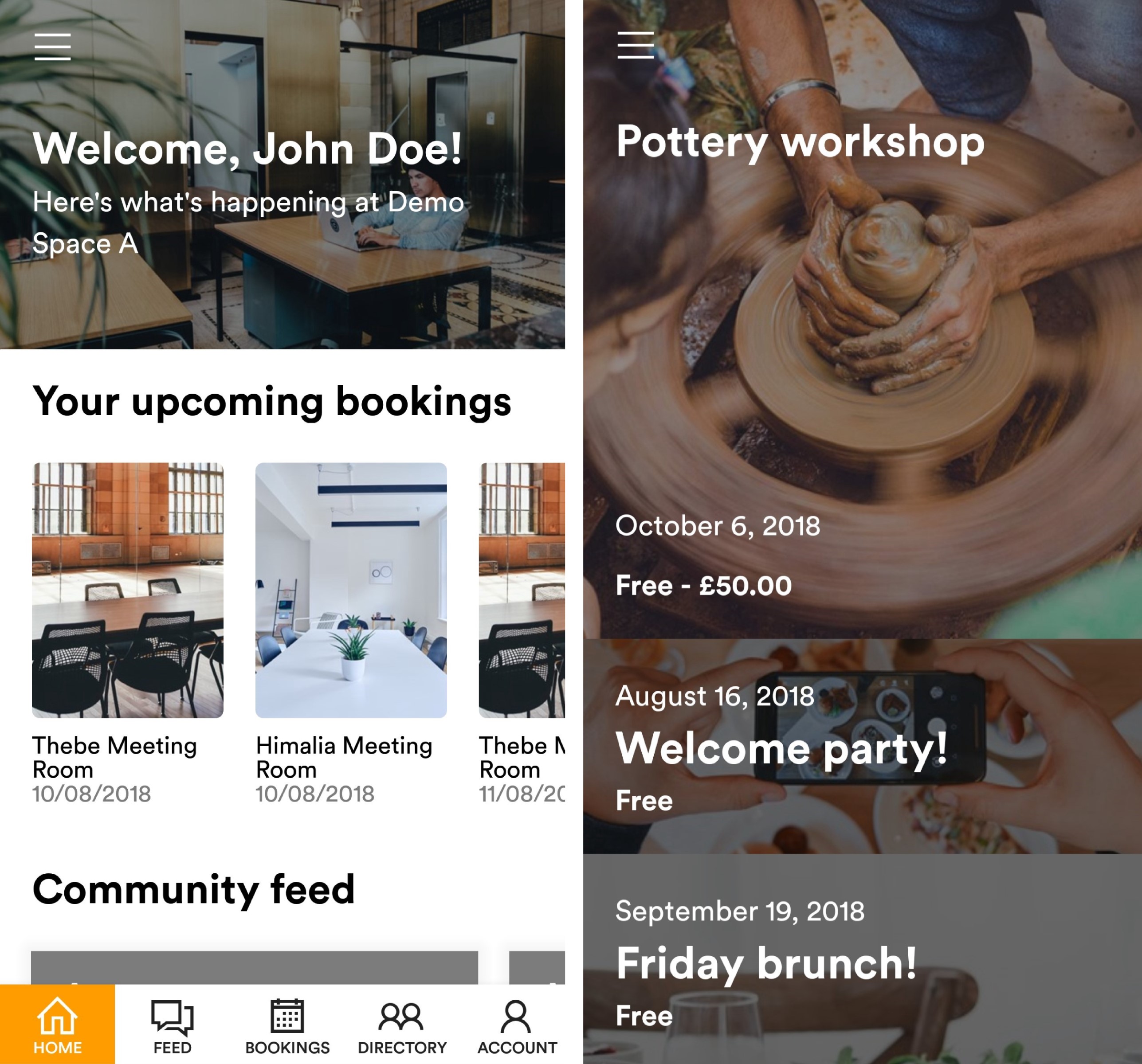 Members home dashboard and Events page
Private Messages: It is important to encourage networking and communication between your space members and so we created a tool that they can use to easily connect and communicate privately.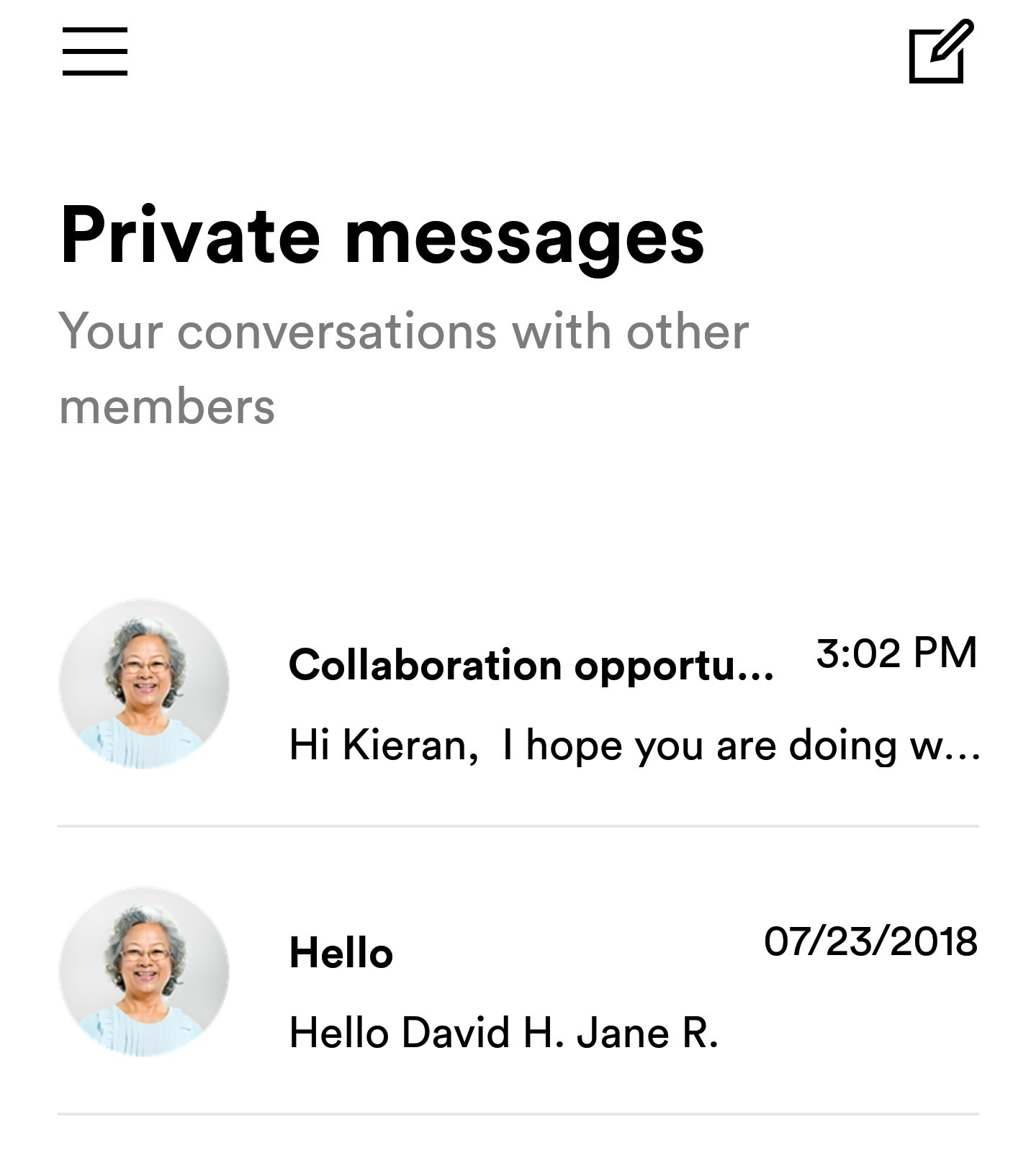 Private Messages section on the new Passport mobile app
How can the new Passport help in your coworking space?
We understand that approaching and getting to know the community can be tough as everyone is busy and has their own routine. Our goal is to help members be more visible and connect with others in a shared workspace. The members of your community can find like-minded people or people with particular skills through their app and communicate when it is convenient, rather than worrying about disturbing them in person. Smartphones go everywhere with us these days, so members of your community can always stay connected with via the app, even when not in the space.
We also make managing bookings, events and payments much easier. What's more, all of this is for no extra cost as Passport is part of your Nexudus subscription!
If your members don't already use Passport by Nexudus, this is a great chance to introduce it to them. Encourage them to download it in order to make the most out of their coworking space. If they already use it, make sure they are aware of this great upgrade!
Related posts
We have just launched NexClicker, a digital tally counter that allows you to count in and out everything entering your workspace. Limit the number of people within your workspace, click them in, and click them out! Social Distancing in a coworking might mean you need to limit your capacity. NexClicker gives you an easy way to count in and out everyone who accesses your flexible workspace.