Don't you just wish that there was something as user-friendly as the Nexudus platform, that could grant your members access to all the services in your space, whilst allowing them and your community to communicate whilst they are on the go?
You might want to prepare yourself for this, because there is!
Passport by Nexudus is the companion app to the Nexudus platform and is the number one app for keeping shared workspace users engaged with each other whether they're on the move, in your space or at home. In other words, if your coworking space is powered by Nexudus, and you haven't taken advantage of this extremely handy beacon of information, we hate to break it to you… but you're missing out!
As the name suggests, Passport by Nexudus can be used as your members' pass to their space - this allows them to be granted contactless access, which has proven to be especially important in recent times, but that's not all. The app's overall aim is to allow your members to manage their processes in a more efficient manner and whilst they are on the move, and there's a reason why it consistently scores excellent reviews. It doubles up as a social networking app, a meeting room booker, a discussion forum, a place to access your current contracts and much more. If only our actual passports could do all that…
Community Engagement
As members of a coworking space and the coworking movement as a whole, your workspace users will know just how beneficial it is to engage with your community. Whilst you may be used to doing this in person when you are in the space, Passport by Nexudus presents you with the perfect opportunity to communicate with others in one unified, digital place, even if you cannot be in the same physical place at the same time.
One of the first things you will see when opening the Passport app is the Community Feed section. Simply put, members can use this section to connect with others. Whether you're looking to create public threads to find answers to any particular queries you may have, send updates to certain groups, set up virtual meetings directly from threads, or privately connect with other coworkers with similar interests or a specific set of skills and abilities, this section is the go-to place to reach out to your community.
Members' Directory
Through accessing the Members' Directory, your members will be able to find exactly the right person they're looking for at the click of a button - search your desired space or the whole network for a name, company name, industry or even particular skills. New connections between members are only a search away!
Your members are also able to link their social media accounts to their profile, so when looking up a certain coworker in the Directory, you are able to instantly follow, connect or 'like' their account, without having to search for them on each individual app.
Participate in threads, post comments, and search for the right content - your members' use of Passport may be for social or professional reasons, but it's time for them to make the most of their surroundings and to connect with their fellow workers!
Events
Speaking of being social, the Passport app is the perfect way to stay notified of any upcoming events. Coworking operators will know just how important it is for growing and thriving workspaces to ensure that regular events take place - these are the perfect opportunities for members to interact, share ideas and collaborate. Just because physical events have been halted for the time being, interaction doesn't have to stop there! Virtual engagements can provide just as much value as an in-person event, but users are able to tune in from wherever they are at the time.
Whether your members choose to attend a virtual class, competition or social, creating events and buying or reserving tickets are both made possible by the Passport app. It really is that simple! By clicking on the hamburger button in the top left corner of the app's screen, your members will be presented with a dropdown menu. By clicking on Events, they will see a list of all of the upcoming events that are happening in your space, or virtually of course!
Room Booking
One of the most useful features of the Passport by Nexudus app is the ability it grants members to book their ever-important meeting room time straight from the app's home page. By hitting the Bookings button at the centre of the app's taskbar (at the bottom), your members will be able to see the bookings they have coming up, make time or venue changes to these, and of course, make a new booking in any of the rooms available in your space, or across your network of spaces.
By simply entering the date and time they are aiming to make the booking for, your members will be presented with a list of the resources available at that time. It really couldn't be easier!
Getting Personal
If your members' colleagues and community members are going to be looking them up in the Member's Directory, they will want to make sure that they are as discoverable as possible. The first step is ensuring that all of their details are correct! By clicking on the Account button on the right of the app's taskbar at the bottom of the page, your members will be presented with all of the information that their profile is currently displaying. Their name, mobile number, website, and role are just some of the options they are able to update should the need arise, as well as their bio section, which we recommend filling out.
In this section, members can also amend their notification settings. Whether they would like to receive alerts for all messages and comments from the community, they have the option to choose what works best for you at that moment in time.
Customizability
We recognise that nowadays, we are not behind our desktops at all times - our lives and schedules are flexible, and we think that it is only right that our app should fit around this. To take this a little further, we have allowed for modular editing of the app. By playing around with the Passport App's settings within your Nexudus account, workspace operators are able to have more control over the features your members can use within the app. You can even enable or disable visibility of certain sections for certain spaces within your network.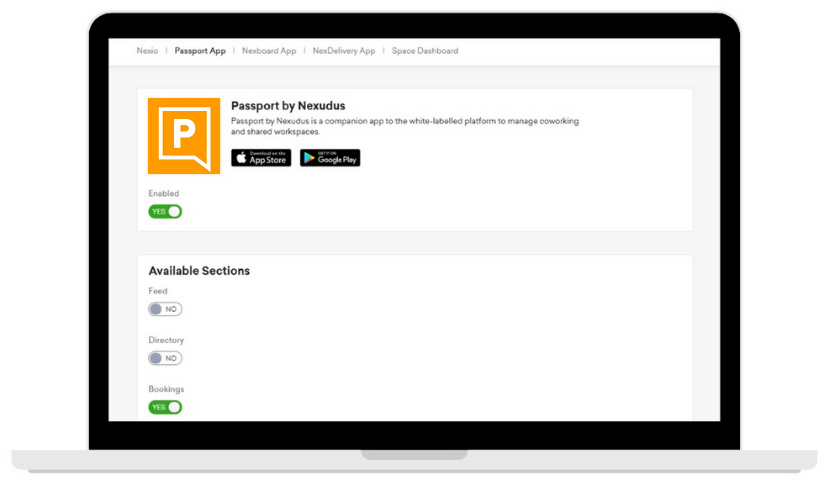 Configure exactly what you want your members to see when they open the app, from within the Nexudus Administration Panel.
Additionally, one of the most exciting things about Passport by Nexudus (and Nexudus as a whole) is the fact it is customisable through white-labelling.
As a standard, the app will appear in the main colour of the logo that you have assigned to your Nexudus account, but though accessing the Nexudus Administration Panel, you are able to add this colour manually. This opens up options for you to assign different colours for each space you are running.
To take this further, Nexudus is able to publish the app on your behalf - this service is paid, but we will include your own logo, banner, typography, icons, and individual customer-facing elements to ensure that despite using Nexudus' user-friendly app, your own brand's true character and charm is able to shine through.
Look out for this icon!
Coworking thrives on collaboration, but staying on top of our own busy, individual lives and day-to-day operations sometimes leaves little room for impromptu engagement with others outside of our own organisation. Passport by Nexudus was designed for your members with this in mind, and is intended to establish meaningful connections that are not only lasting, but conveniently work around their schedule.
Your members' belonging to a coworking community does not stop when they leave the building - by introducing your members to Passport, you will ensure that even when they are away from your space, they still truly feel a sense of belonging, and a part of something special.
Passport by Nexudus is available on iOS and Android. Ensure that your members are making the most out of Nexudus. They can download it now, for no additional cost.