At Nexudus, we recognise that the coworking industry is, and always has been centred around collaboration.
Our organisation was born out of a result of collaboration, and immediate love for the concept of coworking, and since then, we have realised that not only does coworking inspire collaboration between a space and its members, but the industry as a whole continues to maintain that same focus on the bringing together of ideas, thoughts and experiences, to inspire creativity, and to pave the way for the future of this constantly evolving industry.
At a time when it can be so easy to feel disconnected, we hope that by bringing together individuals from a variety of backgrounds and diverse experiences, but who share a common love for coworking, we can help to inspire decisions for your own individual spaces and members.
Over the coming weeks, Nexudus will be playing host to a series of webinars, exploring themes of data, technology and security, discussing prevalent issues faced by spaces old and new. A common topic throughout the series however, will focus on the importance of technology, and the role it will continue to play for your coworking space and your members.
Excited? So are we! Read on for more detail into what exactly will be discussed on each.
Why technology-enabled spaces attract more customers
Tuesday 3rd November - 5pm (GMT) / 12pm (EST)
On the first webinar, expect to hear some influential voices, such as:
James Scerri, Director of Technology and Innovation at FORA

Shabad Chawla, Director at Techsapiens and CEO at coworktech

Chris Chowen, Emerging Technologies Specialist at WiredSussex
Cutting-edge technology is rapidly becoming the minimum requirement for customers looking for a coworking space, and those without smart solutions are beginning to fall behind. In this webinar, we explore the idea of technology-enabled spaces, and the need to provide seamless experiences to members to stay ahead at a time when competition is intensifying. COVID-19 has forced our use of technology to race ahead, and technologies that were previously seen as a nice to have or luxury are quickly becoming absolutely essential. Our guest panelists will dive into understanding key data and relevant metrics for spaces, KPIs and how to appropriately action these metrics, along with a successful business model, and how to replicate these. Expect them to go into detail on these, and much more!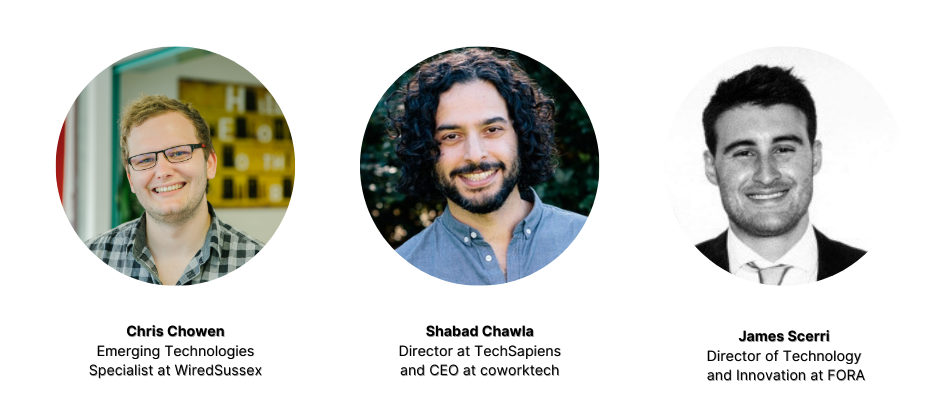 To register, click here.
Why is access and security in your workspace a priority?
Tuesday 17th November - 5pm (GMT) / 12pm (EST)
On our second webinar, you can also expect to hear from some inspiring individuals, across various organisations, such as:
Martin Benuska, Account Manager at Ironwifi

Bradd Konert Jr., President & Co-Founder at Isofy

Christian Schmitz, Sales & Business Development Manager at Salto Systems

Jonathan Polon, Senior Director of Business Development at Brivo
The coworking industry is in the business of people. We all know this already, and we're sure you are used to your spaces being high traffic areas! Whilst this is great for business, having a constant coming and going of people throughout your space, poses certain security risks. Access to different parts of different buildings, teams and individuals with varying levels of access… the possibilities really are almost endless, so staying on top of this information can unsurprisingly seem like a task in itself. However, ensuring that your space is maintained as securely as possible should be a priority - the right people need the right level of access to your workspace, its Wi-Fi connection, and all of the other great things that come with it. Join industry experts mentioned, who explore the marvels of contactless technology and the support it provides to spaces in securing access, how to upgrade, install and liaise with your existing access solutions and how to get started!
Register now by clicking here.
How to make data-driven decisions for your space
Tuesday 1st December - 5pm (GMT) / 12pm (EST)
The third webinar in our series will bring you important data-led advice to implement in your own space, from company founders and directors alike, expect to hear from:
Adam Blaskey, Founder at Produktiv

Lindsey Rohde, Senior Director, Campus Operations at Galvanize Inc
By accurately reporting data, we can gain insight into exactly how spaces are operating, and the appropriate measures to take to ensure that it runs more smoothly and efficiently. The trouble is, this data is often shied away from, due to it being challenging to make sense of, without the right tools. Gaining insights from observation is only good for so much - you may see how your members are interacting with your space on a day-to-day basis, but data will turn these behavioural readings into accurate projections for the future. With the aid of the aforementioned thought leaders, we will promote the benefits of making educated estimations and business decisions with results in mind, based on relevant customer data. Register now, and start taking the guesswork out of your planning. In doing so, you will be able to make more accurate projections for your space's usage and maximise your efficiency.
Register your place by clicking here.
Coworking post-COVID: Why technology is essential to the success your workspace
Tuesday 15th December - 5pm (GMT) / 12pm (EST)
The fourth and last webinar in our series will maintain its overall focus on technology, specifically in the context of coworking during the aftermath of COVID-19. Coworking Strategist, Marc Navarro will be highlighting his most important advice on how to serve your communities at a time when it is easy to feel disconnected, and the role that technology will play in the process.
When COVID-19 completely flipped the world on its head at the beginning of the year, coworking certainly felt the effect. The unfortunate temporary closure of spaces over the world led operators to do everything they could to keep a sense of community feeling amongst members, who had to adjust to the new way of working. Now that spaces are opening again, there is a feeling of widespread hope for the future of coworkers and coworking spaces, but adaptation could not be more essential for spaces to be successful. Technology has to form a large part of any hopeful space's plan for development, or spaces may risk falling behind.

Be sure to register here for advice and guidance on returning to operations.
We're sure these webinars are not only going to be exciting opportunities to hear and learn from industry leaders, but they aim to equip you with ideas and expectations for the future, and provide great value for your space and community.

We hope to see you there!