Level39, based in Canary Wharf, London, is Europe's largest technology incubator hosting 200 start-ups, scale-ups and corporate innovation labs. The Head of Technology at Level39, Qaunain Meghjee shared his insights into the challenges of delivering Level39's digital services and the benefits of using Nexudus' to smarten up their building.
Challenge
---
What was the situation at Level39?
Qaunain Meghjee (QM): We needed to digitalise, centralise and smarten up all our front of house and back-office processes and touch-points as we were using different tools, software and procedures for each element of our business operations, facilities, customer and billing management.
We were at the stage where we needed to maximise efficiencies, and we were growing rapidly in an ever-changing modern industry. We needed to find ways to work smarter, reduce wasted time and minimise duplicated work. So the less time our staff spent on admin and non-required technical matters, the more they could spend on assisting the tech community and member companies with ways to enhance their experiences and connections.
What were the main challenges you had at the time you decided to look for a coworking software solution?
QM: I was looking for one tool that could be used by my team and all of Level39's members too, to do as many use cases as possible. It needed to be a system designed explicitly around coworking space management, but also with an Open API and an active set of integrations. Some key things I was looking for were:
Entirely cloud-based and cross-platform.
A smart searchable backend database that could automatically hierarchically categorise member companies, founders and staff members which can then link to in-built reporting and smart billing.
Multi-user access with the ability for super admins to modify rights and permissions for different user types, so my team, their departments and all our customers can use the system securely.
The ability to dynamically give access to 1000's of our member customers so they can self manage and automate many of their tasks such as:
Instantly view and meeting rooms bookings across our floors.
Create and track visitor invites.
Send support tickets to relevant departments.
Connect with other Level39 members.
A system that lets us customise, edit and personalise all elements with ease and speed.
A tool that focuses on automation, self-service and connection into smart hardware as that is how to scale up in this industry.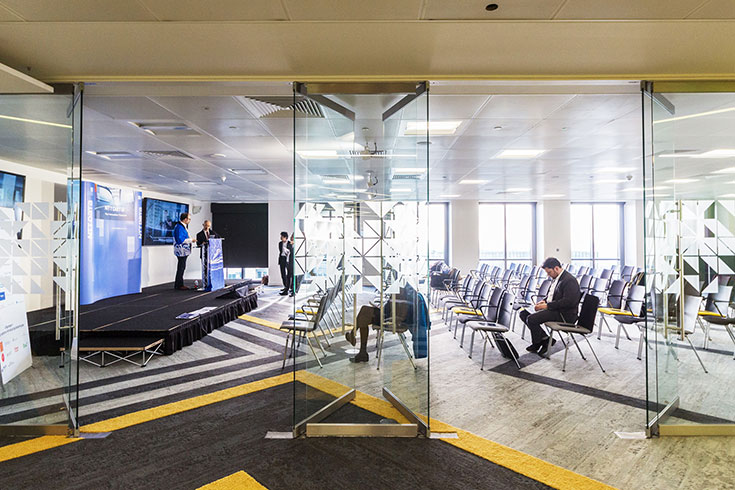 Solution
How did Nexudus meet the requirements? What are the benefits of using a solution-driven white-label software?
QM: With Nexudus, we were able to move quicker, experiment faster and streamline the majority of our operations into one tool. Nexudus offers many sections, features and expandability options tailored for coworking, real estate and office building management:
Digital member management – Providing instant smart databases, cleaner data, linking teams, founders and companies together. Smart and real-time logging, tracking and reporting allowing us to view dashboards of what's going on across the floors.
Finance – Automating payments by linking each user's usage to their companies accounts, connecting to payment processors and direct debit APIs, automated billing reminders and clean reporting.
Resource and facilities management – Being able to link all of our meeting rooms, events spaces, pricing packages, visitor options and support ticketing into one place for each user to access.
Automation and streamlining – Another important area which allowed us to save resources and time by reducing manual processes while continuously modernising and adding value, examples are:
Using the in-built white labelled front-end portal that out of the box understood our multi-floor model. Allowing our members to self manage various tasks that my team would have to manage. Such as updating their profiles, booking meeting rooms, making payments, sending support tickets, tracking their visitor invites and connecting with other members.
Utilising email notifications templates powered by AWS that sends to members and visitors based on different triggers, which has saved us from sending 1000's emails every week to multiple stakeholders and made things run smoothly on the ground. Nexudus has in-built automated email alerts for more scenarios than we needed so I could deactivate the ones we didn't need and customise each using smart tokens which are like tags.
Taking advantage of smart automated emails to make our onboarding more advanced, i.e. 'send after day 1 of activating members', another example of how Nexudus had extra features, so we didn't have to waste time with other tools and processes.
Automated reminders for things like payments, bookings by members and pending support tickets.
Experimenting and prototyping - If we were to launch another product, resource or even a whole floor, we can rapidly prototype how it could work in Nexudus. Test workflows for the team and our end users instantly, i.e. credit for users, new floor with different services on the portal, connecting to Xero and other tools. Also, changing to GoCardless to save on fees and automate payments and even things like connecting to Twilio to send SMS and voice alert notifications.
What are your favourite Nexudus features and why?
Visitor self-check-in iPads (smart hardware)
A great feature, Nexudus has a visitor self-check-in system which automates the whole process end to end, from members inviting visitors down to receiving their guests. I've added 6 self-check-in iPads across Level39's floors and I have connected them to Twilio and other services using Nexudus's API and Zapier.
This resulted in our members getting automated email, SMS and voice alerts notifying them of their visitor's exact location. It's all tracked via a unique 5 digit code that the visitor receives from the Nexudus portal when the initial invite is sent out and tags set on each tablet's software.
Open API and customisability
I'm always on a mission to find ways to eliminate duplicate tasks and empower all types of users to self manage tasks that will speed up their jobs. Nexudus has made their system in a way where it encourages this; some example of things I set up with ease were:
Setting clever actions and triggers in Zapier to automatically subscribe and unsubscribe active/inactive users from our mailing lists on MailChimp and EmailOctopus.
Dynamically being able to update security permissions for different team members so they can take over management tasks.
Adding new payment processors for specific scenarios.
Google BigQuery integration for advanced reporting and SQL data manipulation.
What things are you considering enhancing in your Nexudus setup in the future?
Mastering the newly released Nexudus backend.
Tweaking some features on the white-labelled iOS and Android mobile apps that Nexudus made and linked to our systems API.
Connecting our smart meeting rooms to Nexudus's new Zoom integration.
Rolling out some other smart hardware integration to further automate and streamline processes.
Integrating with our physical access cards, using the NexBoard app so users can book meeting rooms via tablets mounted on the wall outside of each room.
PaperCut integrations for our shared printers.
Re-analysing other features of Nexudus we haven't utilised such as events management.
What did you think of our brand ethos and how is it helping your business to thrive?
Support
Nexudus has always responded quickly to any message we send them, and coincidentally they are only a few stops on the train from Level39, so we get to meet every so often.
Pricing
Clean and fair pricing is what retains customers, and Nexudus employs a low price per active user which dynamically adjusts to our usage.
Onboarding and getting started
We've seen the Nexudus team grow dramatically, so they now have made it even smoother and quicker for customers to get set up. If I want to launch a new floor or resource and don't want to do it manually they have Excel import files.
Company vision and mindset
Where possible, I try to use tools from companies who believe in the market and products as this means they will keep adjusting to the market trends and releasing updates.
Qaunain Meghjee is The Head of Technology at Level39. He is in charge of software, hardware, networking, infrastructure, IoT, technology transformation and digital member management. He leads the technology strategy to ensure all of Level39's 200 member companies, their 1250+ employees and 300+ daily visitors have the best experience and ability to interact with Level39's touchpoints whether they are onsite or based remotely.
If you want to know more about Level39 visit their website now.