Welcome to our flexible workspace
Keeping track of who's entering your space, and when, can be tricky. The size and layout of the space, as well as how busy it is are all factors affecting this. Whether it's a member, someone attending a meeting, or a friend visiting a member, there are always people entering and leaving your space. The traditional methods of checking visitors in manually, can be slow and frustrating and require an extra team member. So how can you solve this problem, and be on top of your visitors in the most efficient way? Automation!
NexIO is a companion app for your Nexudus account. Using a tablet device on iOS and Android, the app allows you to check members & visitors in and out of your coworking space. There are various other ways to check members into your space (e.g. Wi-Fi, rfid, DoorFlow, Salto), but with the NexIO app at the entrance, members can check themselves in quickly and easily. It's also very useful for visitors, so that you can notify their hosts when they arrive to the space (they can be notified via Passport by Nexudus as well!), as well as collect their information in order to, for example, offer guest passes to frequent visitors.
How does NexIO work?
Once you have installed the app and launched it, a login screen will appear. You will need to have a full admin use account to access this app (you can create an admin account like this).
Please note: If you have multiple locations, you will need to use/create an admin account that is registered with only one space.
Once you have logged in, you will be asked to set the device in one of the available modes: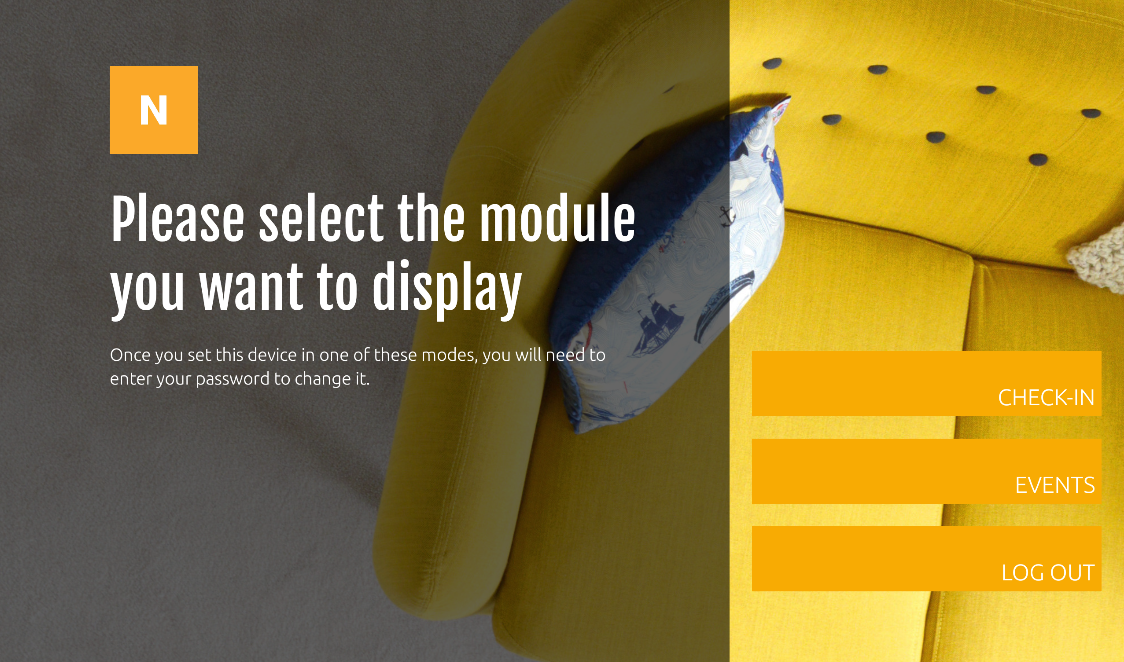 Check-in
A member can check in and out using the 5 digits pincode provided to them.
A visitor can either check in using a 5 digit pincode they were sent by email if they pre-registered. However if a visitor enters as a walk-in guest, they won't have the pin-code and will be asked to provide basic details: name, company and email address. This check-in allows you to have a detailed record of who is visiting your space. You can then let members know when their visitors have arrived, by clicking on the button "Let [Name] know you are here" , from the app.
Our white-label feature enables some of the messages/options on NexIO to be customized, for example, "What is your quest…?" or "I am a visitor"/ "I am a member" can be personalised. You can also activate or deactivate certain options such as, requiring visitors' email addresses, notifying members when a visitor arrives, or even showing newsletter opt-ins. All of this can be done via the admin panel.
Let's check out the general flow: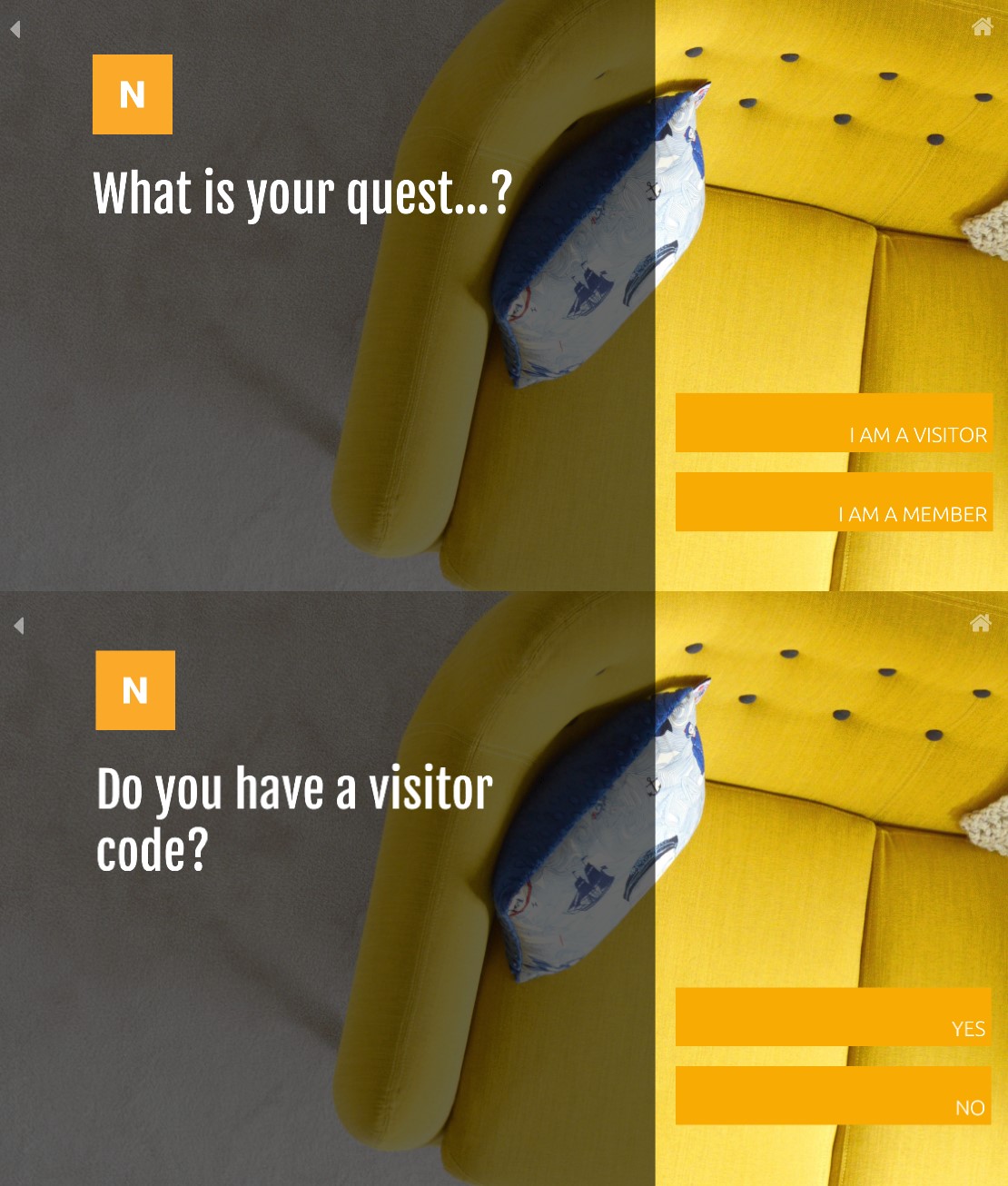 For members or visitors who have a pincode: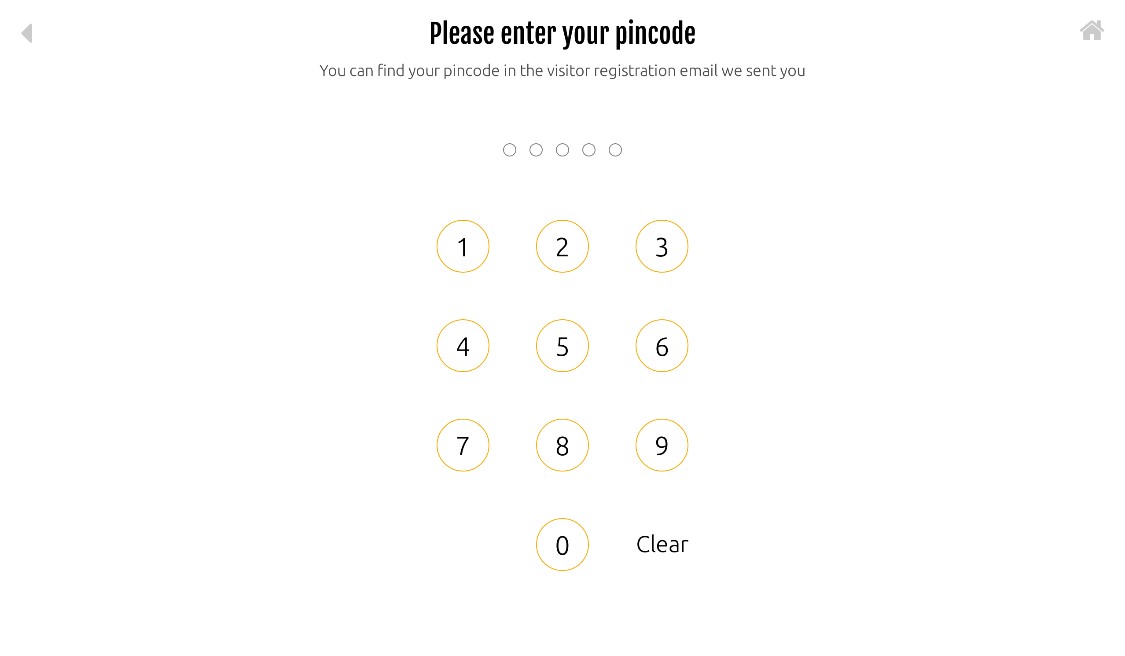 For visitors who don't have a pincode: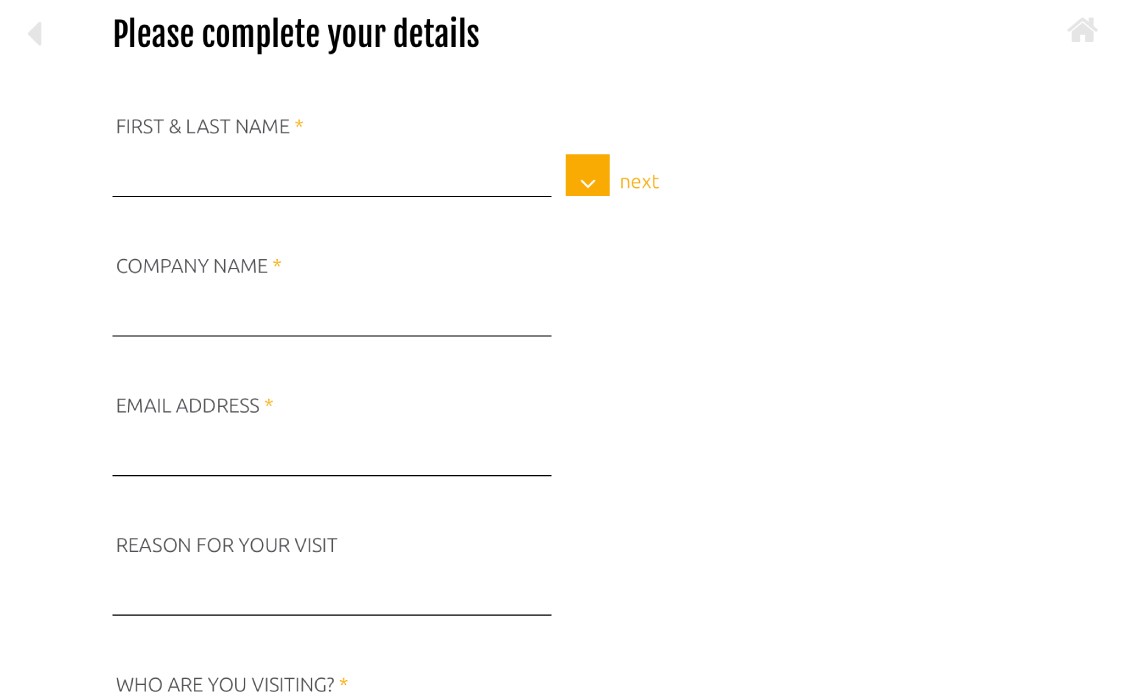 Check-out
When individuals leave the space, they can simply enter their credentials into NexIO to check themselves out.
Events
NexIO also has an "Events" mode so that you can list all of your upcoming events. Members and visitors can purchase tickets, or register for any of the free events, directly within the app. This is an additional way to let members know about upcoming events, but also a great way to inform visitors as a way to encourage them to come back again!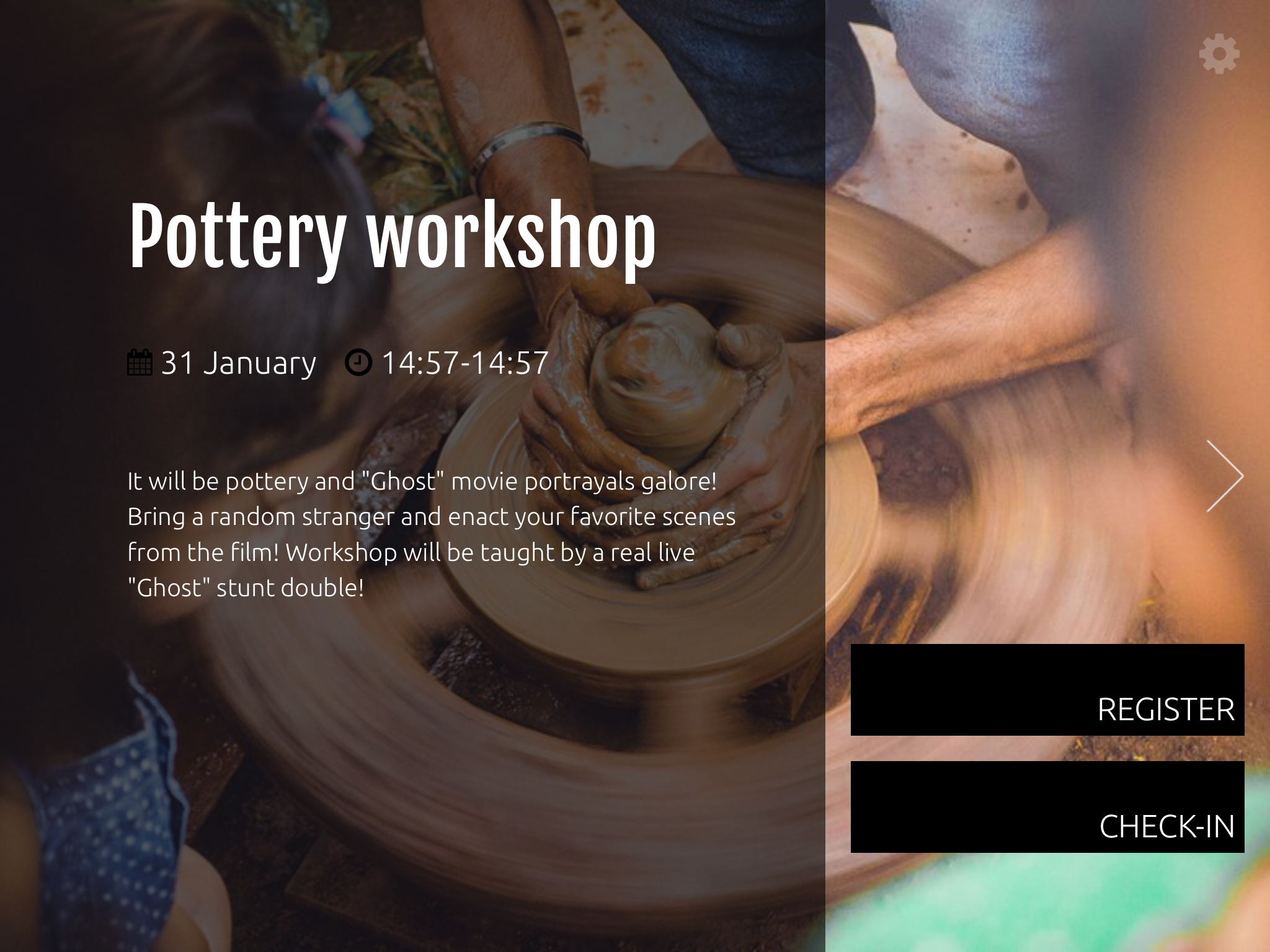 Why use NexIO?
Data Collection
It's important to keep a detailed record of who is visiting your space, but also when members are entering and leaving the space - the data can be found in the check-in module of the 'Reports' section, on the admin panel. Recording check-ins/check-outs can help with understanding popular times in the space and encourage you to offer better rates for members who use the space during off-peak hours. Additionally, it's a good chance to offer trials, guest passes and event passes to those individuals who have a meeting, attending an event or are in the space for a day.
Community
Now that's a word we hear a lot in the world of coworking. It's a pretty special word because one of the main reasons people choose to work in a coworking space, is so that they can be part of a community. Once members have checked into the space, you can choose to enable the option for members to see, in real time, which other members are in the space. They can see this in the 'Directory' section on the members' portal, and on Passport by Nexudus app. This is a great way for members to meet new people, find individuals with certain skills or have a chat with their friends in the community.
Understanding who is in your space is very important for rate prices, managing busy hours and allowing members to see who is in the space. NexIO allows members and visitors to check in and out of the space quickly and easily, and requires minimal effort from you or the manager. And of course, don't forget that NexIO is part of your Nexudus Spaces subscription and does not incur you or your coworkers any extra cost. For more information about NexIO, please check out our knowledge base or contact us.
….
If you don't already use Nexudus and want to learn more about our nifty coworking software, simply request a live demo with one of our friendly onboarding specialists! Or if you have any questions, please don't hesitate to contact us. We are always happy to help!
Our close relationship with customers helps us to understand their needs and receive valuable feedback. This growing understanding of coworking needs, combined with our innovative approach means that we can keep this coworking SaaS up-to-date with new features and improve the user experience.
Related posts
Michigan-based coworking space Cahoots was created by tech founders, for tech founders. It's currently home to 46 companies and counting, from one-person startups to venture-backed teams of 100+. Members can choose from a variety of flexible membership plans and gain access to leading industry events, a Health Club and a number of other amenities – as well as a dedicated and collaborative workspace. As a leading tech hub, Cahoots was in need of a high functioning coworking management platform that would align with their brand. To find out more about why Cahoots chose Nexudus and the features and integrations they find most beneficial, we caught up with Alison Todak. Alison is Cahoots' Managing Director with a background in coaching startups and helping them launch, so her members are at the heart of her decision-making.