We love conferences (good ones, anyway). 
For starters, they provide us with the perfect excuse to get away from our desks. 
Catching up with old coworking industry friends and making new ones in a face-to-face context can provide us with a much needed social boost.
And if you're a new operator or an established one looking to expand, conferences can be the perfect environments for meeting potential investors and collaborators.
Lessons about how to manage finances, attract members and embed sustainable business practices are much more effective when they're delivered by people actually doing it. 
So as 2021 draws to a close, let's take a look at what's on in 2022. 
1. Futurebuild: For net zero & sustainability
Where: ExCeL, London
When: 1-3 March 2022 
Website: www.futurebuild.co.uk
Futurebuild (previously Ecobuild) has been running sustainability-themed events for the last 16 years. As a pioneer of Net Zero, the conference brings together some of the brightest minds in the built environment industry, with the ultimate aim of enacting meaningful change. 
For updates on exhibitors and speakers, follow @FuturebuildNow.
Futurebuild 2022 will be split into six sections: Buildings, Energy, Critical Infrastructure, Interiors, Offsite and Resourceful Materials. We think this is going to be a super useful and  informative event for anyone interested in making coworking spaces more sustainable. 
Did you know that by switching to greener construction materials and improving operational efficiency, lifetime emissions for buildings can be slashed by 44% by 2050?
At next year's event you'll get to learn about the latest smart products and technologies that are making buildings more intelligent (and eco-friendly), and hear from leading practitioners in the circular economy. If you're in London, be sure to sign up today!
2. Future Of Office Space Summit: For the future of the office
Where: Sheraton Hyde Park, Sydney & Virtual
When: 23 March 2022
Website: futureplace.tech/event/future-of-office-space-summit
The Future of Office Space Summit launched this year and will be back again in March 2022. You don't have to be Sydney-based to benefit from this event - it's taking place in the virtual realm too so anyone can come along. 
If you're eager to find out how to future-proof your building, what members want from now and what they might require in the future, and how the current Covid-19 situation is affecting landlords, managers, REITS and fund managers, this event could be the one for your diary. 
A few of the topics on offer will include:
Where the flexible workspace market is heading

Office demand, design and the role of technology

How tenants are helping to redefine the new office landscape 

Understanding the role of IAQ, AI, wearables, visitor management and contactless 
3. Gartner Digital Workplace Summit - for business strategy
Where: London, UK + San Diego, CA 
When: 8-19 May 2022 + June 21-22 2022 
Websites: https://www.gartner.com/en/conferences/emea/digital-workplace-uk &
www.gartner.com/en/conferences/na/digital-workplace-us
The speakers and agenda for Gartner's 2022 Digital Workplace Summit are yet to be announced but you can sign up for updates via the websites above. The 2021 conference took place virtually, however delegates will be able to meet in-person this year in the UK/US.
Although we don't know a lot about what's on the agenda next year, looking back at this year's event will give you an indication of what to expect.
The Digital Workplace Summit is always pragmatic. In 2021, attendees designed a digital workplace strategy and programme built to boost workforce productivity and agility. Delegates chose sessions that aligned with priorities and initiatives for maximum impact.
4. Coworking Unconference Asia: For all things coworking
Where: TBC
When: 2022 (exact date TBC)
Website: cuasia.co
Every year Coworking Unconference Asia unites coworking operators, investors, tech experts and future of work fans from across the continent. 
Previous unconferences have been held in Indonesia, Thailand, Malaysia and India. 2021 was cancelled for obvious reasons, and we're yet to find out where next year's event will be (if you're in Asia and interested, watch this space). 
Why didn't CUA go online in 2021 like other events, I hear you ask. 
If you know what an "unconference" is, it's easy to see why not. 
According to Oxford Languages, an unconference is "a loosely structured conference emphasising the informal exchange of information and ideas between participants, rather than following a conventionally structured programme of events."
As we all know, unstructured and organic interactions are much harder to come by in a virtual setting. CUA 2022 will feature over 50 in-person workshops and keynotes from across a wide variety of industries - including performing arts!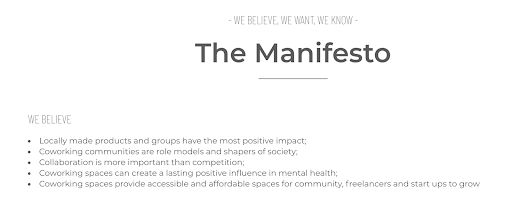 An extract from CUA's Manifesto, published in 2020. 
5. Facing Forward - for workplace inclusion 
Where: TBC, US
When: April 5-7, 2022
Website: forumworkplaceinclusion.org/2022-conference
Interested in upskilling yourself on diversity and inclusion in the workplace? 
If the answer's a resounding yes, The Forum on Workplace Inclusion® 34th annual conference is a must for your diary. Run by the organisation Facing Forward, this three day event is its "premier learning opportunity at the cutting-edge of the DEI landscape."
In fact, the annual conference is the US' biggest workplace diversity, equity, and inclusion (DEI) conference. Here's the blurb for the 2022 edition:
"The pandemic CoVID-19 health crisis has disrupted and upended the way we work. People in all corners of the globe long for human connection but are charged with quickly navigating a digital, distanced work environment. 
"Social protests centering around racism and the unjust deaths of African Americans at the hands of the police have pulled the cover off overwhelming disparities in healthcare, economics, education, housing, public safety, and more.
"Interpersonal tensions are roused and there is a vocal demand for systems change to promote a more equitable society across the US and the world. What will it take to start a workplace revolution that moves us from talk to action?"
If you can't make the live event, Facing Forward's website is still worth checking out. 
Amongst other useful content pieces, you'll find a free podcast and monthly webinar series offering professional and organisational learning opportunities in diversity, equity, and inclusion topics. Speakers come from a wide variety of industries and locations.