While making life easy for your members is vital, it's almost equally important to make sure your coworking space or flexible workspace has the right aesthetic too. With so many spaces being design-focused, members have come to expect a certain level of elegance in the spaces they choose to work in. 
Our latest integration will bring to your space the elegance that you are looking for, whilst also creating new, intuitive ways for your members to get more out of their meeting room bookings. By integrating your Nexudus platform with Humly, you can make sure that your members know exactly what is happening in your space without having to compromise on that all-important design look and feel. 
We are always looking to expand our offering, and the integration partners we work with help to make this possible. With so many of our customers seeking greater room display support, integrating with Humly was a no-brainer for us. Humly Room Displays will now sync with the Nexudus platform, making meeting room and desk booking as clear and streamlined for your coworking members as it possibly can be.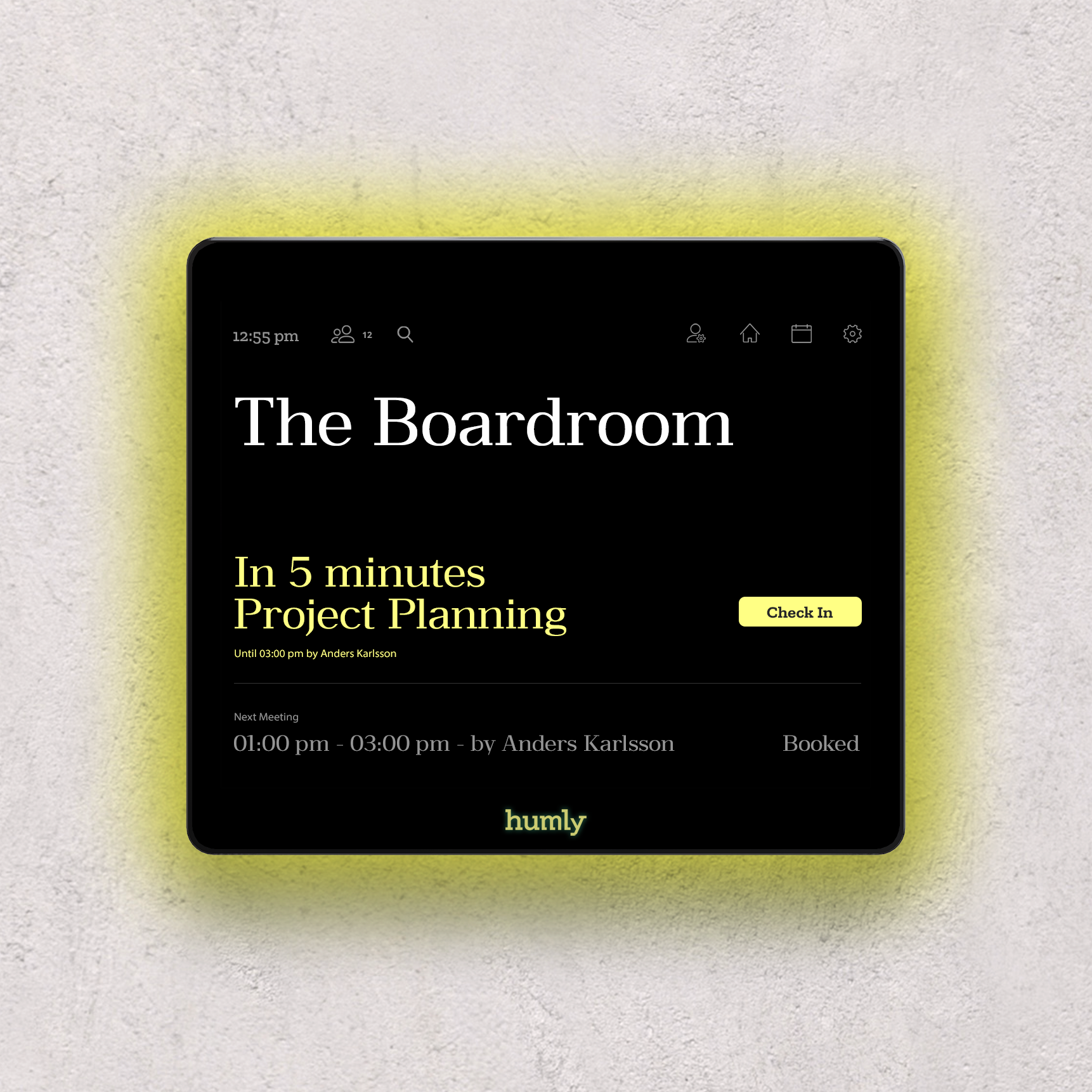 Who are Humly?
Humly specialises in scalable technology to improve meeting experiences and workplace interactions. Their range of products helps to optimise your coworking members' interaction with your space while being adaptable enough to meet all the challenges of the changing workplace and meeting culture of today. 
With over a decade of experience making products for modern workspaces, they know exactly what kind of issues can arise in coworking spaces, and how to solve them. Their products have been tried and tested in over 100,000 meeting rooms throughout the world, so you can rest assured of both their usability and most importantly, their reliability. 
Humly also strives to ensure their products are as sustainable as possible and are constantly seeking to optimise the experience for both their users and the planet. All their products are made from high-quality materials and components, making sure they stand the test of time, reduce running costs, while also reducing the cost that so many electronics have on the environment. 
Elegant, simple, effective
Humly Room Displays demystify meeting room booking by making it clear to members when a room is free, if there are any upcoming meetings, and will notify members of any other meeting rooms that are currently available for use. 
Humly makes sure that keeping your members informed does not compromise the design of your coworking space. Their Room Displays are clear and easy to read, and their designs will allow them to fit perfectly into even the most design-conscious of spaces. The design of the Humly Room Display was recognised when they won the Red Dot Award for product design in 2021.
Humly's Room Displays also allow members to see if a meeting room is available at a glance. Each display is backlit and will change colour depending on the status of the room. When a room is free the light will be green, and when a meeting is in session it will instead appear red. With this integration, your Humly Room Display will automatically sync with the Nexudus platform, displaying your members' information whenever they make a booking. 
Integrating Humly with Nexudus
1. Find a Humly reseller
Humly sells its products exclusively through their network of professional distributors and resellers based around the world. So, first things first, you will need to find a Humly reseller local to you. You can find your nearest reseller by getting in contact with Humly.
2. Installation and Setup
Once you've got your hands on a Humly Room Display you can get down to installing the devices. Humly Room Displays can be mounted to both standard and glass walls. Mounting kits are included in the box, making the installation that much easier. Room Displays can be connected via WiFi or Ethernet connection, depending on what works best for your space. 
3. Connect your Room Displays to the Humly Control Panel
Now your Humly Room Displays are installed, you can connect them to the Humly Control Panel server, which is synced to your Nexudus Booking Calendar, and select the room you want to assign the device to. This is as simple as typing in the IP address of the Control Panel you wish to connect to or the customer id if you are on the cloud offering. Then all you have to do is apply the filters based on the country, city, or building that you are in. 
Once all this is done, your Humly Room Display should be all set up and ready to go. For more detailed information on setup, take a look at the support article in our Knowledge Base.