This is a guest article written by Simon Añez who is the cofounder and manager of CityDesk, a shared coworking space for entrepreneurs in Miami. You can follow him on Twitter at @simonanez
Over the past 2 years I've been scratching my head figuring out what is the best way to attract new members to our coworking space. We came into this world knowing close to nothing, we have tried and tested almost everything that you can do out there in terms of marketing, and doing so on a budget: "It's not as easy as people think!"
I'm here to share with you our results and what we've found out so far. First of all, it's important to understand why people join coworking spaces and what marketers call the "buyer persona". Now I hate to refer to members as "buyers" so let's change it up to "member persona" for our intents and purposes.
Why do people join coworking spaces?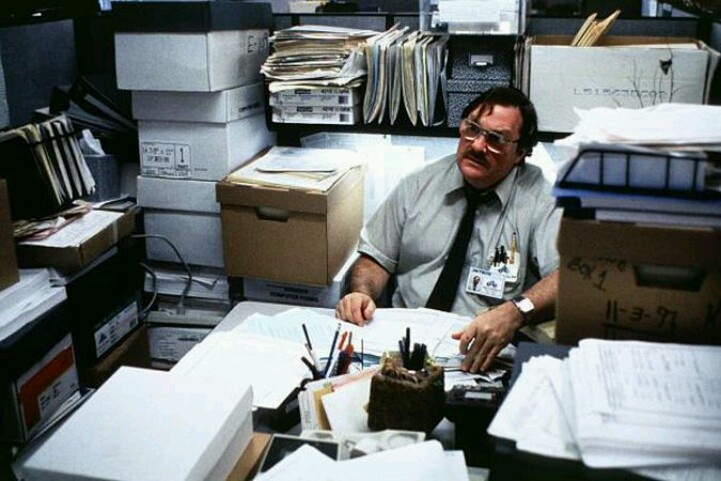 If they move my desk one more time… Photo source: Office Space movie
Here are some of the reasons that someone might join a coworking space, in no particular order:
They don't have enough space at home.
They're trying to get away from distractions at home (kids, pets, tv, bed, etc.).
They need to show their clients a professional setting.
They're looking for business opportunities.
Their company is paying for it so they don't work from home, so they can check on them.
They don't want to commute.
They're looking for a sense of community and to meet like-minded individuals.
They want o save costs that traditional offices have.
Who joins coworking spaces?
Adding to this we need to create a few member personas, based on people that are already in your space or that you hope to attract to your space. Creating a member persona can be an entire article on its own so I'm just going to link to a very nice guide from Hubspot.
These member personas are going to vary depending on your exact location, the personality of your space and also the community manager. Yes the community manager has a big influence on the people that join, especially in smaller spaces, they have to be likeable, relatable and have the member's needs first in mind. It's also important that this person is self-motivated and aligns with your space's mission.
We've had people join us just because we got along very well and/or were from the same city or shared interests. When this is the case, they are already bought into working with you and this creates a strong loyalty from them where they wouldn't even consider joining another space.
For us, a short case of our member personas would be:
People from 25 to 60 year old
Small business owners
Freelancers
Self-employed
Designers
Developers
Start-ups
Basically anybody that can work from just using laptop that likes to share their experiences and help others, that enjoys being around people, likes to learn from others and is located in Miami OR looking to move/expand to Miami. Try to be open about all of this though, you will be surprised on the variety of backgrounds and cultures that can end up joining your space.
How do we reach them?
Unless your space is targeted specifically for a single industry or demographic, like Hera Hub a coworking space for women or Helix made exclusively for the medical field, you're going to waste a lot of time and money going after a wide audience, so try to narrow it as much as you can while keeping it aligned with what you want your space to be and who you want there.

You need to go where this people meet, what do they do, how and why, to better understand how to reach and approach them.
These are the ways we have tried and tested to reach prospective members:
Google Organic Search: You're a local business, make sure you're on every local business listing you can put your hands on, starting with Google My Business. Another good resource to find these websites is Yext. You don't need to pay for their service since you can just manually add your space to every site, but if you have more than one location, it might be a good idea to be a paying user.
Blogging: Make sure you have a blog that's helpful and engaging to your audience. Write for people not search engines and you will see results. This is probably your top source of quality members that have done their research and know to trust google ranking algorithm, so if you have the budget hire a GOOD SEO agency. Do your research, as this is a highly saturated market with many people claiming things they cannot deliver. Try to get your members to give honest reviews, this helps Google rankings and the people searching for spaces too.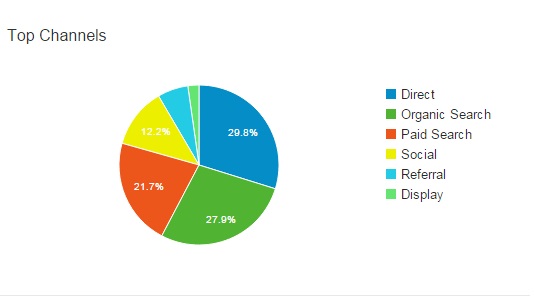 Chart Distribution of our website visitors from the past 30 days
Pay per Click: We've got ads running on AdWords since we started, and like before, we really recommend hiring a good agency to make sure that your ads are optimized within your budget. If not, you can do it yourself if you follow Google's own documentation. I'm a little on the fence on this one though, PPC is expensive and very often you're competing against the big guys with huge budgets, and also against office brokers websites that don't have space themselves but spend a considerable amount of money in ranking in search results but at the same time almost everyone is doing it because it does work.
When you search "coworking Miami" the whole first thing you see are paid ads with only three local listings, you would have to keep scrolling down to see some organic results. Bad news is Google is already experimenting with local paid ads in San Francisco so even those listings might be gone!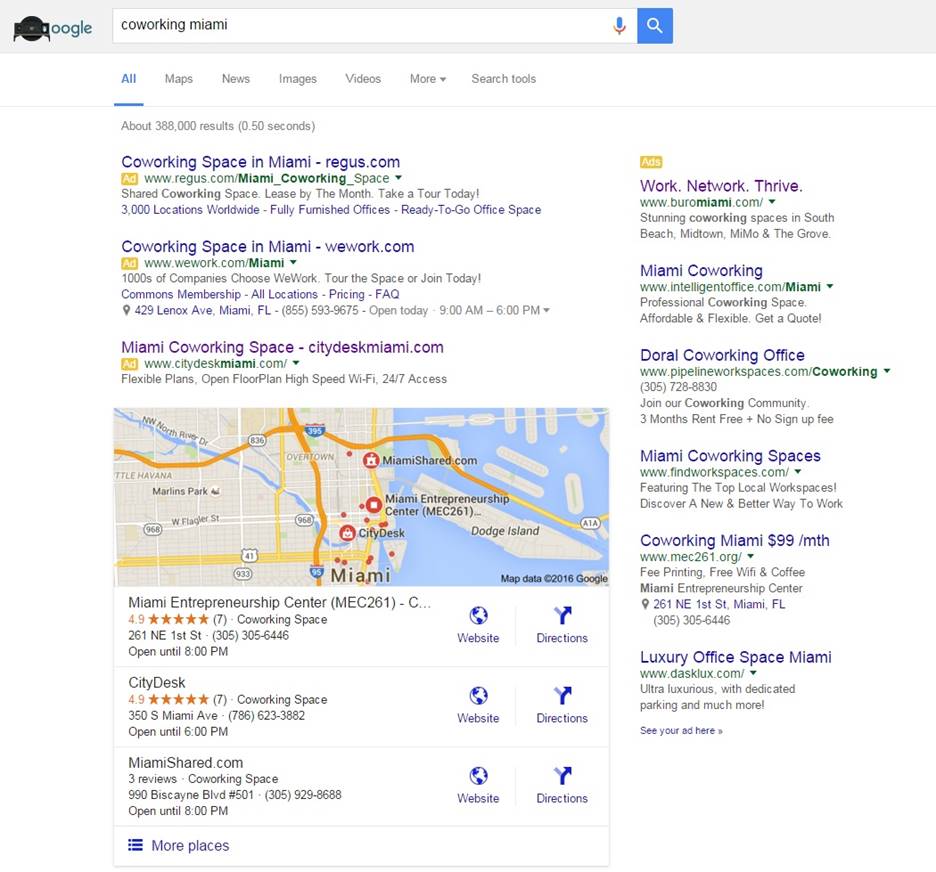 (yes I just noticed by extensions aren't displaying, oops)
Social Media: Each social media is its own world, with its own strategy and audience.Therefore, it's a vital part of any multi-channel marketing campaign and shouldn't be left forgotten. You should be sharing the moments and stories that happen at your space, as well as all your content, like blog posts and news articles.
It's hard to keep up with all of them, but video is probably the best way to promote your business in social media. However, it is also the most expensive and time consuming. We like to use Instagram, since it's where we found the most engagement. Twitter is also widely used by businesses and start-ups, Facebook brings fairly good traffic as well, and I found LinkedIn to be way too spammy for my personal taste. Try what you feel more comfortable with and keep testing.
Events: Either networking yourself or with your team on other people's events or hosting your own, people need to know your space without any feeling any commitment. The best way is to create your own events, as people will either join you if they like them or tell their friends about you. Events also allow you to create content to share on social media or blog posts.
Trust is huge when it comes to today's marketing. When you get to personally know the people that live and work in your city and create a relationship with them, you will notice doors will open for you and your space. You can create strategic partnerships with local organizations to help grow and promote each other.
This is probably the best way to get new members, as they will be more likely loyal ambassadors of your brand, and help you spread the word out there. If you're a speaker, consider going for speaking opportunities as well.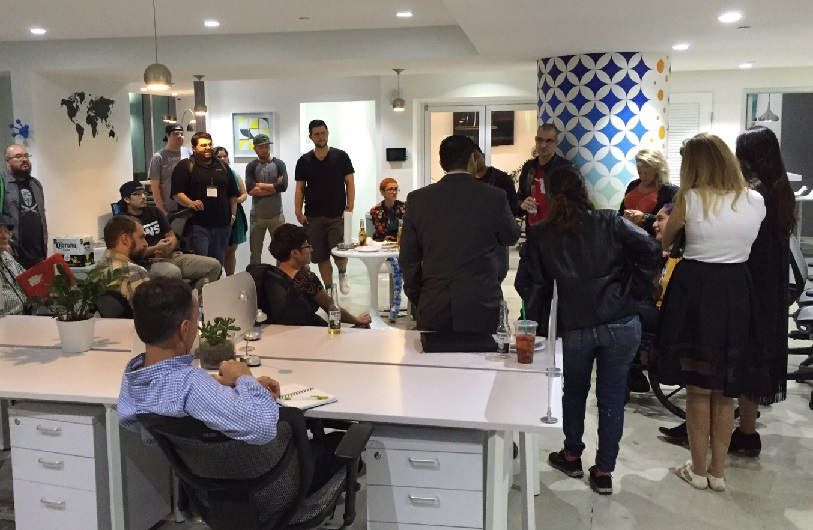 Miami YouTubers Meetup
Print: Contrary to popular belief and online advocates like me, print isn't dead. I'm not talking about getting a full page ad on a newspaper or magazine (we tried it, it didn't work, and the money's gone). I meanflyers, direct mail to local residents or placing at locations where residents will see them, outside signage if you have availability, and stickers are always good to give out at events.
Tradeshows: Just kidding, don't ever do trade shows, no matter how tempting or how likeable their salesman is, just don't do it! Unless you have at least five locations, there are just better ways to spend your time and money. Same goes for Radio and TV to a bigger scale.
PR (public relations): It is a big way to get recognition. Like I mentioned before, trust is huge in today's marketing, so if you can get reputable sites and journalists to talk about your space and your events, you've struck gold. We get consistent quality traffic from articles we've been mentioned in and it allows you to put yourself and your space in a great advantageous position. Best of all, you can do it yourself too, find out who the key influencers and journalists are in your area and pitch them your space or event. Keep in mind that trustworthy journalists won't promote any business if they can't find something newsworthy from it that their readers will like, i.e., "Did you just open a new location?", "Are you doing a newsworthy event?" Coworking spaces are no longer a new thing so look into what makes you unique and newsworthy and go with that. If you have the budget, consider hiring a PR agency that's done work into the business/tech/start-up side of things.
Members: Your members will be your voice and brand ambassadors: if their experience at the space is superb, they will recommend it to the people they know. That's why you must make sure it is the best it can be, have great costumer service, fulfill their needs, never ever cheat them with hidden fees and tricky unfair agreements,, introduce them to others, create member only events… you get the point.
At the end of the day, it all pretty much comes down to trying to really be the best coworking space in town, provide the most value for your members, and people will talk. Make sure to test, test and test some more every channel and see which one works best for you, ask your members for feedback, how they found you or why they decided to join your space. I'd love to hear from you in the comments with your shares about how have you marketed your space and how you found out what worked best for you. Looking forward to it.
Main photo source: Leon Ephraïm